Dudley Says Fed Should Err on Side of Raising Rates Late
Christopher Condon, Matthew Boesler and Alexandria Arnold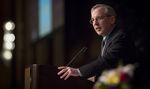 Federal Reserve Bank of New York President William C. Dudley said the central bank should err on the side of waiting too long as it considers when to raise interest rates for the first time in almost a decade.
"Our intention would be to be conservative," Dudley said in remarks on Wednesday at an event hosted by Reuters in New York. "I think there are strong arguments for being a little on the late side."
He said a premature rate increase could force policy makers to reverse course and lower the federal funds rate back to near zero. That would damage the Fed's credibility, he said.
Dudley's remarks reinforce recent signals by policy makers, including Fed Chair Janet Yellen, that they are in no hurry to start raising rates. The Federal Open Market Committee last month opened the door to a rate increase as early as June, while emphasizing it will respond to incoming economic data, which in recent weeks has pointed to slower growth.
Yellen said on March 27 she expects the Fed to raise rates this year and the subsequent pace of tightening will be gradual, without following a predictable path. Fed Governor Jerome Powell said earlier on Wednesday that damage done by the financial crisis and hidden slack in the labor market justified a gradual approach to raising rates.
Dudley also cited labor-market slack as a reason to keep borrowing costs low.
"We have a lot of long-term unemployed in the economy, and it's really important to bring those people back into the work force," he said.
March Payrolls
Dudley cautioned against placing too much importance on a disappointing jobs report last month. Employers added a less-than-forecast 126,000 new jobs to non-farm payrolls in March, after averaging 269,000 over the preceding 12 months.
"That's just a single month," he said. "I wouldn't take a huge signal from the 126,000."
Additional improvement in the job market, Dudley said, could help boost wages, an important component in assuring policy makers that inflation will pick up. The Fed's most recent policy statement makes clear officials won't raise rates until they are "reasonably confident" that inflation will move back up toward the bank's 2 percent goal over the medium term.
While there has been some improvement in wages, Dudley said the current rate of gains is "not consistent" with a 2 percent rate of overall inflation.
Investor Response
After the Fed begins raising rates, Dudley said the pace of tightening thereafter will depend not only on economic data, but also on the response by investors.
"I have a tremendous amount of uncertainty about how the market is going to react" to liftoff, he said.
He cited the so-called taper tantrum in 2013, when bond investors reacted "violently" to then-Chair Ben S. Bernanke's comment that the Fed was thinking about reducing the level of its bond purchases. That caused borrowing rates to spike. In contrast, Dudley noted that when the Fed wound the program down in 2014, markets took it in stride.
Highlighting a development that should be encouraging for U.S. growth, Dudley said he was optimistic the European Central Bank's own bond purchases, begun last month, will help turn the euro-area economy around.
"I think we're very likely going to see a strong cyclical rebound in Europe," he said. "Having a sustainable economic recovery in Japan and Europe is obviously going to make me a lot more confident about growth in the U.S."
Before it's here, it's on the Bloomberg Terminal.
LEARN MORE