DirecTV's Rob Lowe Ads Ended on Schedule Amid Comcast Complaints
Scott Moritz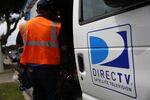 DirecTV has stopped its TV campaign contrasting a suave Rob Lowe satellite-TV subscriber with a more questionable Rob Lowe cable user as Comcast Corp. complained about the ads' claims of better service.
"The Rob Lowe campaign was always scheduled to end at the end of Q1," Jon Gieselman, DirecTV's senior vice president of marketing, said in an e-mail. "We wanted to launch our new campaign with Hannah Davis in the Final Four," he said, referring to the Sports Illustrated swimsuit model and the national college basketball tournament.
Lowe played a cast of sad-sack cable users with scrawny arms and crazy hair, some paranoid and others who showed poor judgment. Comcast complained about the ads' assertions that DirecTV provided superior signal reliability and better customer service. The Council of Better Business Bureaus' National Advertising Division, which reviews complaints and checks accuracy, agreed with Comcast, according to the Los Angeles Times. The NAD recommended that DirecTV drop the claims in the Rob Lowe ads.
DirecTV spokeswoman Cara Brugnoli said the timing of the end of the campaign wasn't influenced by any outside factor.
The new ads, filmed on a tropical beach, tout qualities like wireless connectivity and customer-satisfaction surveys.
"We always reserve the right to bring back the Rob Lowe campaign, either in its current form or with new spots," Gieselman said. "It has been extremely successful for the brand."
Before it's here, it's on the Bloomberg Terminal.
LEARN MORE