Cheap Turkish Bank Stocks No Buy Signal on Economic Slowdown
Zahra Hankir and Constantine Courcoulas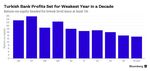 The slump in Turkish banking stocks that sent them to the cheapest levels relative to peers in a year may not be over as a slowing economy and weakening lira damp prospects for earnings.
The Borsa Istanbul Banks Index has lost 7.9 percent this year, the worst start since 2008. That sent the discount for the price-to-book ratio relative to the financial companies in the MSCI Emerging Markets Index to 0.82 this month, the attached chart shows. It took a drop to a five-year low of 0.76 in February 2014 before bank shares rebounded, sending the gauge up more than 10 percent in three months.
Turkey's economy will probably expand 2.8 percent this year, the slowest pace since 2012, Goldman Sachs Group Inc. said in a report last month. Analysts cut their forecast from 4 percent growth, citing the outlook for investment and consumer demand and concern over possible changes in central bank policy makers following June parliamentary elections.
"It's hard to be very constructive ahead of elections, there's just too much uncertainty," Cagdas Dogan, a banking analyst at BGC Partners in Istanbul, said by e-mail on Tuesday. "We see some downside risk to current 2015 bank earnings forecasts" as the slowing economy "negatively impacts" lending and a weaker currency pressures operating expenses, he said.
Return on equity, a measure of profitability, will probably drop for a third consecutive year in 2015 to an average 13 percent, the lowest level since at least 2006, according to data compiled by Bloomberg for companies in the banking index. The lira has tumbled 19 percent in the past year. Banks account for about 34 percent of Turkey's benchmark stock index.
Consensus earnings estimates for the country's lenders in 2016 have fallen by almost 4 percent this year, Tomasz Noetzel, a Bloomberg Intelligence analyst in London, said in a report last month.
Before it's here, it's on the Bloomberg Terminal.
LEARN MORE