Bernanke Book, 'Courage To Act,' to Be Released in October
Steve Matthews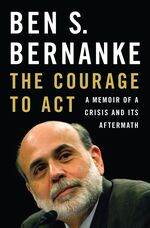 Former Federal Reserve Chairman Ben S. Bernanke's memoir will be titled "The Courage to Act" and portray how he helped to rescue the U.S. economy, publisher W.W. Norton & Co. said.
Bernanke's account, with the subtitle "A Memoir of a Crisis and Its Aftermath," will be released in October.
The title refers to how policy makers "mustered the moral courage to do what was necessary, often in the face of bitter criticism and condemnation," Bernanke, 61, said in a statement.
The book will give the former Fed chairman's account of "the tireless and ultimately successful efforts to prevent a mass economic failure," according to the publisher's website. "This narrative will reveal for the first time how the creativity and decisiveness of a few key leaders prevented an economic collapse of unimaginable scale."
The former Fed chief, who previously was a Princeton University professor, has also launched a blog hosted by the Brookings Institution.
Bernanke, a Great Depression scholar, cut interest rates to near zero, purchased Treasuries and mortgage-backed securities as part of a quantitative easing program, made Fed loans available to investment firms for the first time since the 1930s, and launched unprecedented rescues of American International Group Inc. and Bear Stearns Cos.
Still, he has admitted mistakes that contributed to the crisis, including a failure to regulate banks and subprime mortgages adequately. Policy makers didn't believe "that overvaluation in the housing market posed the major systemic risks that we now know it did," Bernanke said to the Financial Crisis Inquiry Commission.
In August 2007, as turbulence in the subprime-mortgage market rose to a "considerable" degree, policy makers at the Fed disagreed over the extent of the threat to the economy, Bernanke said.
Before it's here, it's on the Bloomberg Terminal.
LEARN MORE