As Dollar Affects S&P 500 P/Es, Rising P Seen Surpassing Lower E
David Wilson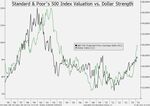 Stock valuations may climb more than enough in response to a rising dollar to counter the currency's effect on earnings, according to Savita Subramanian, chief U.S. equity strategist at Bank of America Corp.'s Merrill Lynch unit.
As the attached chart shows, that's what happened as the dollar rallied between 1995 and 2002, a period that Subramanian cited yesterday in a report. The projected price-earnings ratio for the Standard & Poor's 500 Index peaked in December 1999 at 26.9 times projected earnings, up from 12.6 times in January 1995, according to data compiled by Bloomberg.
Estimated P/Es also climbed between 1978 and 1985 as the dollar rallied, the New York-based strategist wrote. The Dollar Index, shown in the chart and in her report, more than doubled within the period. The indicator tracks the value of the U.S. currency against the euro and five other major currencies.
Every 10 percent increase in the dollar reduces S&P 500 earnings by $3 to $4 a share, Subramanian wrote. Wall Street strategists expect companies in the index to earn a combined $123.13 for this year, based on the average estimate in a Bloomberg survey.
"Historically, markets have a tendency to look through this impact, resulting in multiple expansion," she wrote. The pattern has prevailed since the dollar's current advance began in 2008, the report said.
The performance of multinational companies may be driven more by the pace of economic expansion than by currency moves, Subramanian added. She cited the GLOBALcycle, a indicator that the bank derived from economic-conditions indexes, which shows this year's growth worldwide may surpass Merrill's estimate of 3.5 percent.
Before it's here, it's on the Bloomberg Terminal.
LEARN MORE