Used-Car Boom Breeds Record U.S. Bond Bets, Concern Over Risk
Jody Shenn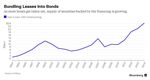 Auto-finance companies are issuing record amounts of bonds backed by leases as used cars retain their value like never before. With the supply of second-hand vehicles now poised to rise, it's raising concern that risks are building.
Sales of securities backed by car leases have already surpassed $6 billion this year after a record $16.4 billion were issued in 2014, data compiled by Bloomberg and Wells Fargo & Co. show. As everyone from automakers to mutual funds wagers on how much cars will be worth when the leases expire, the size of the market has more than tripled since 2008.
The concern is that the expansion is underpinned by a shortage of used cars that a widely followed forecaster says will begin to reverse this year. That would threaten to depress car values and increase the risk of losses for lessors including Ford Motor Co., General Motors Co. and Ally Financial Inc. should they fall more than estimated.
"It's going to put pressure on the used-car market, which creates a knock-on effect," John Mendel, an executive vice president at Honda Motor Co.'s U.S. unit, said in a telephone interview. "I don't think anybody is predicting a crash but I think you could see a correction over the next couple of years."
2008 Slump
After the U.S. recession seven years ago triggered a slump in new-car sales and the federal government's "Cash for Clunkers" program took vehicles off the road, the supply of used cars plummeted. That boosted the value of previously owned autos, allowing lenders to write leases with higher residual values -- industry lingo for how much they projected they could get for the cars after the leases expired.
The lenders could then offer lower monthly payments to customers, stoking more leasing and profiting by selling cars for more than forecast when they're turned in.
New leases last year exceeded 3.5 million for the first time since 1999, more than tripling from 2009, according to Cox Enterprises Inc.'s Manheim unit, which provides vehicle remarketing services. More than 25 percent of all new cars driven off dealer lots in the last three months of 2014 were leased, the most for a year-end period since at least 2006 and up from 14.9 percent in 2008, according to Experian Plc's automotive unit.
Race for Yield
The growth came at the same time that debt investors, faced with near-zero interest rates, increasingly turned to riskier or more complex securities to boost yields. That helped auto-finance companies to bundle the leases they wrote into bonds, retaining the exposure to initial losses on the contracts while selling the rest to investors such as mutual funds. Since 2008, the amount of securities backed by auto leases has soared by more than $16 billion to exceed $24 billion, according to the Securities Industry & Financial Markets Association.
So far, used-car prices remain elevated. In February, a closely watched index created by a Manheim unit was 12 percent higher than the average over the decade through 2007 and just 2 percent below the record high reached in 2011.
But the tide is turning.
For 2015 models, TrueCar Inc.'s ALG unit is predicting cars will retain 48.9 percent of their values after three years. While still relatively high, it's 0.8 percentage point less than its forecast for last year's models. An average of about 53 percent was realized for cars sold from 2008 to 2011.
Supply Forecasts
After used-vehicle supply fell 25 percent between 2007 and 2013 to 9.3 million, the lowest in at least 15 years, it ticked up to 9.4 million last year, ALG data show. Over each of the next three years, it's forecasting supply will rise by a range of 800,000 to 1 million.
History shows how losses on leasing can pile up. Ford and GM reported more than $4 billion of writedowns on vehicle leases in the second quarter of 2008 alone as the U.S. economy was mired in the worst recession since the Great Depression.
Industrywide losses in 2000 and 2001 totaled more than $10 billion, according to data cited in a research paper by Lamar Pierce, a professor of strategy at Washington University's Olin Business School in St. Louis.
Long History
"There's this long history in car leasing, just like home mortgages, where there's some sort of disaster and everybody is like, 'this won't ever happen again,' but then we go through the cycle again," Pierce said in an interview.
Margaret Mellott, a spokeswoman for Ford's lending unit, said it works collaboratively with other divisions to "support both brand value and sales" and "in line with accounting rules, we regularly review expected residual values and make adjustments as needed."
Chrissy Heinke, a spokeswoman for GM's finance arm, declined to comment.
Ally uses its own model to set residual values and evaluates the lease portfolio every quarter, said Gina Proia, a spokeswoman for the bank. "This is an area that we monitor closely and we are comfortable with our process to set and adjust residual values," she said in an e-mail.
The bank, a former GM lending arm that's losing new lease business as the automaker turns to promoting contracts from its current unit, projected in October that used-car prices would fall 12 percent between the prior month and end of next year.
Securities Market
Honda, whose Accords and Civics are the most-leased models, guards against residual risk by never setting the figures higher than third-party forecasts as a way to move vehicles, Mendel said. It also finances a mix of different car types, helping it deal with unforeseen shocks, he said.
Slumping used-car prices may weaken the value of securities backed by leases even without being big enough to actually cause bondholder losses, according to John McElravey, an analyst for Wells Fargo in Charlotte, North Carolina.
Automakers that issue the debt retain the risk on initial losses in those securities, cushioning investors. Bondholders also rely on ALG's forecasts instead of the automakers' to determine the size of the buffers. Even if all of the cars were turned in and sold for prices 30 percent less than predicted, the top-rated portions would get repaid, according to Fitch Ratings.
Rather than allowing a decline in residual forecasts to damp sales, automakers will probably look to offer incentives to attract customers, said Kevin Tynan, an analyst with Bloomberg Intelligence. While companies often include such costs in their strategies to support leasing, they can also be hidden until residual values prove too aggressive, according to Washington University's Pierce.
"They're going to keep residuals as high as possible as long as possible," Tynan said. "It's not the kind of industry that will preemptively stop doing something that's driving volumes today out of concern about the potential payback later."
Before it's here, it's on the Bloomberg Terminal.
LEARN MORE