Swatch Collection Sells for $6 Million at Sotheby's
Frederik Balfour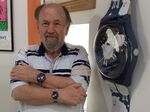 A group of more than 5,800 Swatch timepieces sold for HK$46.7 million ($6 million) at Sotheby's in Hong Kong.
Paul Dunkel, a 68-year-old from Luxembourg who amassed the collection beginning in 1983, patted his chest and sighed after the gavel went down, marking the winning bid Tuesday to a European institution that made the purchase over the phone.
"All those years I put it together and it was over in five minutes," he said after the sale.
The auction also included 19 maxi Swatches and several Swatch-related artworks including a piece by Keith Haring.
Dunkel said he stopped collecting in 2007 because he had run out of space in his house and decided to put the entire collection up for sale as his children weren't interested in inheriting it.
"Now I can give them the money," he said, adding "I don't need it, I have a house and a good pension" from his years in the insurance business.
In 2011, Phillips de Pury sold a collection of 4,370 timepieces at auction in Hong Kong for HK$51.1 million.
Earlier Tuesday, Chinese billionaire Liu Yiqian paid HK$114 million for a southern Song Dynasty ceramic vase known as a guan, bringing his auction purchases in the past year to more than $115 million.
Before it's here, it's on the Bloomberg Terminal.
LEARN MORE