Rand Paul and the Art of the Presidential Money Bomb
He money-bombed his way to a U.S. Senate seat and now hopes this fundraising technique blasts him through the GOP presidential primary.
By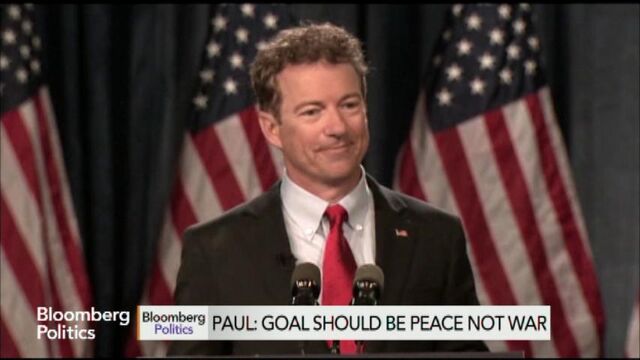 Rand Paul begins his presidential journey by lighting the fuse on a money bomb.
"On April 7th, I'm launching a 'Stand with Rand' Money Bomb," a pledge page for one of his political action committees reads. "So I'm counting on you to stand with me by pledging your most generous contribution to this effort. The political world's eyes will be trained on me and it's crucial I make a statement no one can ignore."
This is a familiar playbook. Flash back to August 20, 2009. Paul, an ophthalmologist with a famous libertarian father, began his long-shot campaign for a U.S. Senate seat by asking supporters to contribute small amounts online. He sought additional online help a few weeks later, as his Republican primary opponent Trey Grayson held a $500-per-plate fundraiser in Washington, filled with sitting senators and blessed by Republican leadership. "This deck stacking favoritism in a highly contested GOP primary is unacceptable," Paul wrote on Kentuckyfight.com, the website promoting the fundraising match.
Those bombs worked. By the end of September, Paul had harvested more than $1 million. Grayson, meanwhile, banked $645,000, even with his head start on that quarter's fundraising. The Rand Paul money bombs convinced Grayson that his opponent was more than merely a pest to be easily swatted away. "I always thought I was going to beat him," Grayson said, reflecting on the race three years later in New York magazine, " but that was the first time where I said, 'Wow, maybe there really is something here. He could be a lot more trouble than we thought. This is more than a few diehards. This is real. Money is real.'"
Paul now hopes his money bombs blast him into the top tier of what will be a crowded Republican presidential primary field. The online portfolio he inherited from his father and refined in that 2010 Senate run could help him compete for dollars with former Florida Governor Jeb Bush, whose early goal is to raise $100 million, and other probable contenders like Wisconsin Governor Scott Walker and Florida Senator Marco Rubio.
A review of Paul's campaign finance reports show the depth of his small-donor advantage. Through the end of last year, supporters giving less than $200 made up 43 percent of his fundraising base, according to the Center for Responsive Politics. That's far higher than Ted Cruz's 16 percent. The Texas senator, the only big-name Republican to make a presidential campaign official, is trying to grab the grassroots mantle; he boasted to Iowa Republicans last week that he'd raised $4 million in the eight days since announcing his presidential campaign, 95 percent of which, he said, was in the form of $100-or-less donations. 
But Rand Paul and money bombs share a father. Ron Paul, a Texas representative who thrice ran for president, leveraged the Internet to finance his 2008 and 2012 campaigns. On November 5, 2007—a date that could be considered the money bomb's birthday—Ron Paul's supporters banded together to give more than $4 million, setting a single-day fundraising record. Federal Election Commission reports show that in the 2008 campaign, Ron Paul raised $35 million and in 2012, $41 million. In the more recent run, 44 percent of his money came from donors giving $200 or less, according to the Center for Responsive Politics. Rand Paul benefits from that online fan club: Each of his money-bomb pleas pings around the many Internet and social media sites devoted to his father. 
Paul might also be able to leverage other Ron Paul assets. Peter Thiel, the billionaire founder of PayPal, gave more than $2.5 million to groups helping Ron Paul in 2012. Thiel and Rand Paul have spoken several times, but Thiel's advisers said recently that he hasn't committed to any 2016er just yet. Ron Paul also founded a "dark money" nonprofit called Campaign for Liberty that's now in position to assist Rand Paul. The group, which does not have to disclose its donors, claims more than 650,000 members and had a $3.4 million budget in 2013, the most recent tax forms available. 
The younger Paul, 52, hasn't had to run for office since his 2010 upset, but he has made a practice of exercising his fundraising muscles—and developing new ones. He raised about $12 million between January 2011 and the end of last year, for his 2016 Senate re-election campaign and his leadership political action committee, which doles out financial assistance to other candidates, FEC reports show. His Senate campaign account had almost $3 million in it as of the end of last year, according to FEC reports, money that can be moved over to a presidential account.
Just as with policy, the younger Paul has tried to build up mainstream Republican bona fides. Over the past few years, he's worked with fellow Kentuckian Nate Morris to court party donors, particularly on Wall Street and in Silicon Valley, where Morris's contacts have helped him build a waste-management company called Rubicon Global. Morris, who was one of President George W. Bush's youngest money-bundlers in 2004 and is married to the granddaughter of President George H.W. Bush's secretary of Commerce, Bob Mosbacher, has establishment connections and appeal.
"I've typically tried to introduce Rand to people who aren't otherwise familiar with Rand World, whether that's the 'establishment,' so to speak, or financial types," Morris told Bloomberg News last year.
Still, the Paul money bombs have continued apace.
His recently reinvigorated fight to audit the Federal Reserve sparked a number of bombs. He sought audit-related contributions for his leadership PAC, raising about $88,000, according to an online counter on the donation page. Meanwhile another audit-related bomb, this one for the Ron Paul nonprofit Campaign for Liberty, has netted $124,000 since February, according its online counter.