Oil Slumps Most in 2 Months as Supply Gain Adds to Record Glut
Moming Zhou and Mark Shenk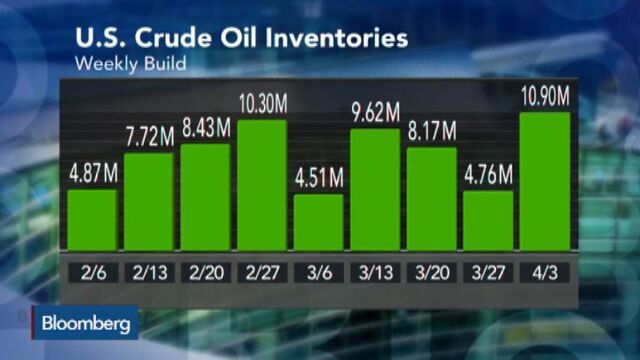 Oil posted its biggest one-day slump in two months after U.S. crude inventories jumped the most in 14 years.
New York futures slid 6.6 percent a day after reaching their high for the year. U.S. oil stockpiles climbed 10.95 million barrels in the week ended April 3 to the highest level since 1930, a government report showed on Wednesday.
Oil is struggling to sustain a recovery amid speculation the supply surplus that drove prices almost 50 percent lower in 2014 will persist. Saudi Arabia increased oil production in March to the highest in at least 12 years, while the Energy Information Administration said Tuesday that crude prices could tumble $15 a barrel next year if sanctions are lifted following a final nuclear deal with Iran.
"We continue to get inventory builds," Adam Wise, who helps run a $7 billion oil and gas bond portfolio as a managing director at John Hancock in Boston, said by phone. "The Saudi Arabian announcement that they will continue to pump 10 million barrels a day will add pressure, as will the possible return of Iranian barrels. This all argues for weak prices."
WTI for May delivery dropped $3.56 to $50.42 a barrel on the New York Mercantile Exchange. The contract closed Tuesday at $53.98, the highest since Dec. 30. The volume of all futures was 37 percent above the 100-day average.
Brent for May settlement fell $3.55, or 6 percent, to $55.55 a barrel on the London-based ICE Futures Europe exchange. The European benchmark crude traded at a premium of $5.13 to WTI on the ICE.
Weekly Records
Crude inventories in the U.S., the world's largest oil consumer, rose to 482.4 million barrels last week. Supplies at Cushing, Oklahoma, climbed 1.23 million to 60.2 million, exceeding 60 million for the first time.
"The oil market fundamentally by itself looks incredibly weak," said Tom Finlon, Jupiter, Florida-based director of Energy Analytics Group LLC. "There is plenty of reason for the market to make a major adjustment downward soon. I think $40 is a very realistic number."
Gasoline supplies increased for the first time in five weeks to 229.9 million barrels. Analysts had expected a drop of 2 million.
Falling Rigs
"We are a long way from a market that's in balance," said Michael Lynch, president of Strategic Energy & Economic Research in Winchester, Massachusetts. "The fundamentals are reasserting their power."
The EIA reduced its projection for U.S. output as drillers reduced the number of operating rigs to the fewest in four years. The 2015 production estimate was cut by 120,000 barrels from last month's forecast to 9.23 million. That's the highest level since 1972.
"The market has lost its momentum here," said Phil Flynn, senior market analyst at the Price Futures Group in Chicago. "The glut is not going away."
Saudi Arabia, which led OPEC's November decision to maintain supply targets amid a global surplus, will continue pumping at about 10 million barrels a day, Oil Minister Ali al-Naimi said in Riyadh Tuesday. OPEC won't cut output without cooperation from producers elsewhere, Naimi said. The figure of 10.3 million for the kingdom's production in March is the highest level in the Riyadh-based Joint Organisations Data Initiative database since 2002.
Iran holds at least 30 million barrels in storage and could move oil out of storage more quickly during the second half of 2015 "in preparation to increase production if discussions on sanctions show progress," the EIA said.
Before it's here, it's on the Bloomberg Terminal.
LEARN MORE