Korea Economic Sentiment Yet to Fully Recover From Ferry Sinking
Jiyeun Lee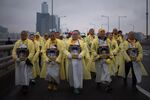 As South Korea approaches the one-year anniversary of the Sewol ferry sinking, the economy has yet to fully recover from the slump in sentiment caused by the outpouring of grief over the disaster.
While other accidents faded from public memory more quickly, the sinking had a "broader and deeper" impact on sentiment because hundreds of teenagers perished, leaving South Koreans feeling guilty and helpless, according to an assessment by LG Economic Research Institute.
Months of nationwide mourning, combined with a global slowdown, crimped growth in Asia's fourth-largest economy. Expansion last year was 3.3 percent, compared with 4 percent projected by the Bank of Korea just a few days before the ferry went down with more than 300 people aboard. The outlook for 2015 isn't much better, with the central bank's most recent outlook for gross domestic product to increase 3.4 percent.
"The Sewol incident has had a stronger and deeper impact on the economy than any of us anticipated," said Lee Jun Hyup, a Seoul-based research fellow for Hyundai Research Institute. "The government's stimulus policies to support the economy weren't as effective because sentiment was so weak."
The nation's consumer confidence stood at 101 in March, compared with 108 the month before the Sewol sank on April 16 2014, data from the Bank of Korea show. Readings above 100 indicate a positive outlook among households.
To support growth, the BOK lowered the benchmark interest rate in three steps since August 2014. It's now at a record low of 1.75 percent. The government also expanded this year's budget to a record 375.4 trillion won ($346 billion).
Business sentiment is also yet to recover, with manufacturers' confidence for April at 80, compared with 86 a year earlier. Reading below 100 indicate businesses are negative.
"Consumption this year will be better than last year when we had the unprecedented Sewol shock," said Lee Chang Seon, a Seoul-based research fellow for LG Economic Research Institute. "But it won't be a full-pace recovery. There are structural issues, like household debt, and people are spending less because the future is uncertain."
Before it's here, it's on the Bloomberg Terminal.
LEARN MORE