Duke Freshmen Star With Record 60 Points in Title-Game Victory
Erik Matuszewski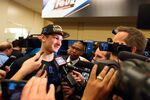 Grayson Allen, who had dreamed of winning a national championship at Duke since he was in the eighth grade, made it reality by coming off the bench to spark a record-setting performance by the Blue Devils' freshman class.
Duke beat Wisconsin 68-63 on Monday night in Indianapolis behind 60 points from its four freshmen, the most by a group of first-year players in the title game of the National Collegiate Athletic Association men's basketball tournament.
The previous record of 51 had been set by Ohio State in 2007, while Kentucky's 2014 squad and Syracuse's 2003 team each got 50 points from their freshmen.
"To have it in my first year here at Duke is amazing," said Allen, who scored 16 points. "This group has talked about this moment since the beginning of the year. But saying it and actually getting it done are two completely different things."
Jahlil Okafor garnered most of the attention at Duke throughout the season, as the 6-foot-11 freshman center led the team in scoring and rebounding while finishing as the runner-up to Wisconsin's Frank Kaminsky in national player of the year voting.
In the championship game, it was Duke's freshman guards who stole the spotlight.
With Okafor limited by foul trouble, Tyus Jones and Allen combined to score 29 of the Blue Devils' 37 second-half points. Allen scored eight straight during one stretch to help Duke overcome a nine-point deficit. Jones had a team-high 23 points and was voted the Most Outstanding Player of the Final Four.
"This is just such a special group and the best team I've ever been a part of," Jones said at a news conference. "This has been our one goal that we were working for."
Freshman Scoring
Only three other freshmen scored more points in a national championship game than Jones: Toby Bailey, with 26 points for UCLA in 1995; Pervis Ellison with 25 for Louisville in 1985, and Greg Oden with 25 for Ohio State in 2007.
Okafor finished with 10 points as Duke captured its fifth national title, while another freshman, 6-foot-6 forward Justise Winslow, had 11 points and a team-high nine rebounds.
Senior guard Quinn Cook, the Blue Devils' second-leading scorer during the regular season, had six points in the championship game as the freshmen took over. Afterward, Cook said he was grateful for the attitude and confidence his young teammates demonstrated throughout the year.
Led by Jones and Allen, the freshmen scored all of Duke's 37 points during the second half against Wisconsin.
"They came in so close, so together and so humble. They were the No. 1 class," Cook said. "But it was all about the team. All of them worked and all of them looked up to the upperclassmen for advice. They didn't think they knew it all. They've been making plays for us all year and it's great that it paid off in the biggest game of everybody's lives."
Before it's here, it's on the Bloomberg Terminal.
LEARN MORE