Barclays' Felder to Step Down as Head of Markets, Memo Shows
Ambereen Choudhury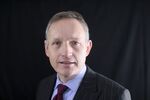 Barclays Plc's Eric Felder is stepping down as head of markets at the investment bank after a year in the role and will be replaced by Joe Corcoran, a memo shows.
Corcoran, who is head of equities and credit products, will take over the role on an interim basis, Tom King, chief executive officer of Barclays's investment bank, said in a memo to staff Tuesday. Felder is leaving the bank. The contents of the memo were confirmed by a Barclays spokeswoman in New York.
Felder, who joined Barclays when the lender acquired Lehman Brothers Holdings Inc.'s U.S. unit in 2008, is stepping down a year after Antony Jenkins said he will scale back the lender's riskiest operations. As part of the overhaul, the CEO pledged to cut some 7,000 jobs at the investment bank and set up a unit for the sale of assets such as complex derivatives.
"It seems pretty clear the broader downsizing of Barclays's investment banking operations continues," said Simon Willis, an analyst at Daniel Stewart Securities Plc in London.
Jenkins has seen his Transform cost-cutting plan, announced last year, overshadowed by rising costs tied to past misconduct at the investment bank. The unit eliminated some 2,100 jobs in 2014, with operating costs declining 15 percent to 1.6 billion pounds ($2.4 billion) in the fourth quarter.
"As we approach the one-year anniversary of our strategy update, now is an appropriate time to make a leadership change in our markets business to take us forward through the rest of 2015 and beyond," King said in the memo. Felder "intends to use this moment of change as an opportunity to pursue a career more aligned with his personal and professional ambitions."
Felder was named head of markets at the investment bank in April 2014, overseeing the global sales and trading businesses from New York. Corcoran spent 25 years at Barclays and Lehman, while Felder spent 21 years at the two companies, according to the memo.
Barclays's shares closed at 258 pence in London, up 1.3 percent. They have increased about 6 percent this year.
Before it's here, it's on the Bloomberg Terminal.
LEARN MORE