Eurnekian Says Gas Price Rise Would Bolster Argentine Output
Daniel Cancel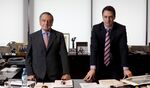 Hugo Eurnekian, who heads the energy unit of Argentina's Corporacion America, says an increase in domestic natural gas prices would boost investment and output.
"Prices are far from being in line with what it costs to import natural gas," Eurnekian, whose billionaire uncle runs the Corporacion America holding company, said in an interview at his office in Buenos Aires. "With a higher price you'd have more people investing and at a faster rate."
While President Cristina Fernandez de Kirchner's government has nearly tripled the price paid to natural gas producers since nationalizing YPF SA in 2012 and increased the price paid for crude oil domestically to be above international levels during the collapse in global energy prices, there's still room to provide incentives for natural gas, he said. Argentina pays gas producers who increase production a maximum of $7.5 per million British thermal unit, trailing import costs of as much as $18 per million BTU in the past year to ship the fuel from as far away as Qatar to cover a shortfall.
Argentina posted an energy trade deficit of about $6 billion in 2014 after running surpluses for at least 20 years until 2011. In contrast to gas, which is more widely used in Argentina, crude oil producers are receiving about $65 to $80 a barrel domestically, while U.S. benchmark prices hover around $50 a barrel.
After nationalizing the country's largest company YPF, the government implemented the so-called Gas Plus plan as an incentive to increase production. Whoever wins the October presidential election to replace Fernandez will continue to give priority to the energy industry to try and reduce the deficit, Eurnekian said.
Austral Basin
Cia. General de Combustibles, the energy producer run by Corporacion America, plans to more than double gas and oil production in the Austral basin in the Patagonian province of Santa Cruz after paying $101 million to buy 26 fields and infrastructure from Petroleo Brasileiro SA last month, Eurnekian said.
While many companies are investing in Argentina's shale deposit, known as Vaca Muerta, CGC is fully focused on conventional output.
"This is the only oil and gas basin in Argentina that is underdeveloped," said Eurnekian. "We're concentrating on conventional production in the short term because there's still so much to be done."
To reach the target of 60,000 barrels of oil equivalent in the next few years, CGC will invest more than $100 million this year and look to double annual capex in the short term. To do that, the company will tap local debt markets for the first time and may try to sell foreign currency bonds abroad or hold an initial public offering, according to Eurnekian.
CGC Purchase
CGC, which is 70 percent owned by Corporacion America and 30 percent owned by Sociedad Comercial del Plata, is valued at about $700 million currently, the 32-year-old executive said.
Eduardo Eurnekian, the 82-year-old founder and chairman of Corporacion America paid $190 million for an 81 percent stake in CGC and later sold an 11 percent stake to SCP. Now is a good time to buy assets in the country since they're "attractive," he said.
YPF paid $800 million in cash to buy Apache Corp.'s energy assets last year while Apco Oil & Gas International sold its Argentine assets to Pluspetrol for $427 million.
Beyond the fields in Santa Cruz, CGC has production in other provinces including Chubut, Neuquen and Rio Negro while also owning stakes in the main pipelines in the country, including Transportadora Gas del Norte.
"We've managed to triple the size of the company with the purchase of the Petrobras assets and break into the top 10 biggest producers in the country," Eurnekian said. "With the 30,000 square kilometers we now have in the south it's like having a whole basin to ourselves to explore."
Before it's here, it's on the Bloomberg Terminal.
LEARN MORE