Jeb Bush Makes it Official: He's Not Hispanic
The former Florida governor told reporters he "made a mistake" on his 2009 voter registration form.
By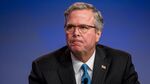 He lives in Miami. He's bilingual. But he's not Hispanic.
Former Florida Governor Jeb Bush made that final point clear on Tuesday, speaking to reporters for the first time since the New York Times reported that the potential 2016 presidential candidate identified himself as Hispanic on a 2009 voter registration form. 
"I guess I signed the form and made a mistake," Bush told reporters after meeting with veterans at an IHOP restaurant in Colorado Springs. "Clearly, I am who I am. It's kind of bizarre to think that there's some kind of plot here. This simple fact was I must have signed the form when we moved. I am who I am. I'm proud of the fact that I live in Miami. I'm proud of the fact that I'm bilingual. But I'm certainly Anglo. I'm not sure what the big deal is." 
While speaking to reporters near the parking lot, Bush was heckled by a passerby who, before walking into the diner, identified himself as a Republican and yelled out, "We've had enough Bushes."
Bush shot the man a look, told him to "take care," and then continued speaking about how sequestration is hurting the economy.