Warring Wynn Ex-Spouses Criticized by ISS on Governance
Scott Moritz and Christopher Palmeri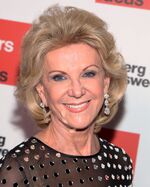 Wynn Resorts Ltd. and Elaine Wynn, who has been battling the casino company to keep her board seat, were both handed a setback after a proxy-advisory report criticized corporate governance.
Institutional Shareholder Services Inc. advised shareholders on Sunday to withhold support for Wynn Resorts' two nominees and also reject Elaine Wynn's bid to seek re-election to the board.
"There appears to be no daylight between Elaine Wynn and the rest of the board on tolerating weak governance practices, poor pay practices, or an overall corporate governance profile that ranks among the worst, not the best, of U.S. companies," ISS said.
The board of Las Vegas-based Wynn Resorts decided in February against renominating Elaine Wynn, 72, who is in a legal fight with her ex-husband, Chairman and Chief Executive Officer Steve Wynn. She drew scrutiny after a $9.5 million stock sale in January came during an insider-sale prohibition before the company's earnings report.
Elaine Wynn, a co-founder of the company and its third-largest shareholder, has been a director since October 2002. She nominated herself as a dissident shareholder.
'Manifest Failures'
Citing the "manifest failures of governance," the ISS report recommended that shareholders reject all of the candidates. Annual incentive pay for Steve Wynn, 73, has increased despite negative shareholder returns, the report said. Limited disclosures about new performance measures don't give investors enough information, it said.
"Given that this proxy contest is the one moment when every board is perhaps most keenly attentive to the voice of its shareholders, Wynn shareholders may wish, instead, to demand a more compelling alternative than the status quo," the report said.
Wynn Resorts, in a statement Sunday, reiterated its support for its two nominees, John J. Hagenbuch and J. Edward Virtue, and its opposition to Elaine Wynn's re-election.
Elaine Wynn opposed the ISS recommendations and said in a statement that she could bring "meaningful value creation" if shareholders re-elected her.
Wynn's Pay
The ISS report questions how the board and its compensation committee handled the renewal of Steve Wynn's employment agreement.
For example, the report says that in January, the company extended Wynn's contract by two years to 2022. As part of the extension, the amount of Wynn's cash severance payment increased to $270 million from $168 million, according to the report.
ISS said the move, along with tax provisions that benefit Steve Wynn, run counter to other compensation reforms and could put the company's decision at odds with investors.
"Such provisions may lead to substantial potential termination payments and may encourage executives to negotiate transactions that may not be in the best interests of shareholders," the ISS report says.
Michael Weaver, a Wynn Resorts spokesman, said the boost to Wynn's potential severance pay was due to changes to the incentive-based bonus program last year.
"The compensation committee believes that executive incentives tied to the company's stock performance ratings are in the best interests of all stockholders," Weaver said.
Shares of Wynn Resorts fell 23 percent last year.
Before it's here, it's on the Bloomberg Terminal.
LEARN MORE