Vodafone's $4 Billion Tab for India Airwaves Endangers Ratings
Amy Thomson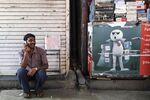 Vodafone Group Plc is paying $4 billion to keep its mobile-phone networks running in India. It could cost the company its credit ratings too.
The 258 billion-rupee investment in airwaves is adding to the pressure on cash resources following major acquisitions in Europe and a broader refurbishment and expansion program known as Project Spring. Moody's Investors Service called the India spectrum price tag "a credit negative," while Fitch Ratings said "headroom" had been reduced. And there is more spending ahead.
"If you add it to other auctions due to come, it raises the possibility of downgrades to a very high probability," Roger Appleyard, an analyst at RBC Capital Markets in London, said in an interview.
Vodafone's ratio of net debt to earnings before interest, taxes, depreciation and amortization will be about 2.2 for the fiscal year that ended in March, broadly in line with its peers, according to RBC. That will increase to 2.6 next year as Project Spring spending and spectrum auctions in Germany and Turkey take their toll.
Vodafone is ranked the third-lowest investment grade with a stable outlook at Moody's and Fitch. The two firms downgraded Vodafone last year after it agreed to spend 7.2 billion euros ($7.9 billion) to buy Spanish cable operator Grupo Corporativo Ono SA and 7.7 billion euros to buy Kabel Deutschland Holding AG. The company is one level higher with a negative outlook at Standard & Poor's.
Matt Morgan, a spokesman for Newbury, England-based Vodafone, declined to comment on the company's ratings outlook.
Expensive Bonds
RBC said Vodafone bonds in euros now looked expensive, with investors demanding less yield relative to the benchmark zero-coupon curve -- the so-called Z-spread -- than they do for similarly rated Verizon Communications Inc., Telefonica SA and AT&T Inc.
"Vodafone does trade wide to Deutsche Telekom and Orange but fully deserves to, given the rising leverage and weak free cash flow profile," Appleyard said in a March 30 note.
Free cash flow, or the operating cash a business generates after accounting for capital spending, shows what is available for reducing debts among other things. Vodafone said in February the figure for the fiscal year would probably be positive, though that doesn't include costs for spectrum and licenses. Net debt as of Dec. 31 was 22.3 billion pounds ($33 billion.)
Record Auction
The record $18 billion raised for the Indian government in the spectrum auction announced last week underscored how far companies were prepared to go for a share of the second-biggest mobile-phone market after China, with 900 million subscribers. Vodafone was facing the expiration of its rights to use the 900-megahertz band in six Indian regions in December.
Retaining spectrum in India was "key for Vodafone," Moody's credit officer Ivan Palacios said in a note. Had it failed, it would have had to redesign its network in the country.
India represents a bright spot for Vodafone as it battles heavy competition and saturated markets in its biggest sales-generating countries in Europe.
With an average monthly revenue per user of about 1.95 pounds, India accounts for about 10 percent of Vodafone's annual sales. Indian customers use more than half of its voice minutes and account for more than a third of its mobile subscribers, according to data compiled by Bloomberg.
Investment Appeal
And in January, the Indian government decided not to appeal a court ruling that went in the favor of Vodafone in a tax dispute, a sign Prime Minister Narendra Modi wants to make the country more attractive to foreign investors. Other tax disputes remain unresolved.
The upside of Vodafone's spending in India may be that the highly competitive market finally has an incentive to raise prices to recoup the investment and reduce balance-sheet pressures, said UBS Group AG analyst Polo Tang.
"This would be a positive outcome" for Vodafone, Tang said in a note last week. "With the overhang from Indian spectrum auctions now cleared and the euro recovering, we think investor focus for Vodafone can switch back to improving organic service revenue trends."
Before it's here, it's on the Bloomberg Terminal.
LEARN MORE