Undoing Chavez's $50 Billion of Oil Giveaways Eases Default Risk
Andrea Jaramillo and Pietro D. Pitts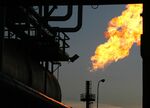 Debt investors are finding a little comfort in Venezuelan President Nicolas Maduro's decision to quietly dismantle a pet program of his late predecessor, Hugo Chavez.
As sinking crude prices stoke concern that Venezuela will run out of money, Maduro has cut sales of cheap oil to allies to about half what they were in 2012, according to Barclays Plc. Since 2005, Venezuela has allowed countries from Nicaragua to Jamaica to fund shipments at below-market rates, using 25-year loans with annual interest rates of 1 percent and trades of everything from rice to jeans.
Maduro's retreat from the program -- which Barclays estimates has cost his country $50 billion over the past decade -- will allow Venezuela to avoid default this year, according to the London-based bank. The reduced risk is being reflected in the derivatives market, where swaps traders have chopped the probability that Venezuela will halt bond payments in the next 12 months to 55 percent from as high as 87 percent in January.
"We're seeing the government do things to signal that they really have the intention of servicing their debt," Gorky Urquieta, who manages $4.3 billion of emerging-market debt including Venezuela bonds at Neuberger Berman, said by telephone from Atlanta. "That has made markets less concerned of the default risk this year."
Jamaica Talks
Venezuela's Information Ministry didn't respond to an e-mailed request for comment on the country's oil program known as Petrocaribe and its ability to honor debt.
While Maduro has largely been loath to undo Chavez's economic policies, his decision to rein in the program -- along with a reduction in the dollars provided to importers and money squeezed from its oil-refining unit in the U.S. -- is lessening the country's cash shortfall, according to Barclays, which cites oil delivery data from Petrologistics.
Venezuela now needs $22.6 billion to finance itself this year, down from an earlier estimate of $33 billion, the bank estimates.
"At the moment, the probability of a default has declined substantially," Barclays analyst Alejandro Arreaza said by telephone from New York.
In January, the Dominican Republic struck a deal to repay Venezuela $1.9 billion for the nearly $4.1 billion of crude shipments it owed the country under the oil program. Jamaican Finance Minister Peter Phillips said last month that the country is also in talks to pay back the debt it incurred through Petrocaribe.
Default Risk
The upfront cost to protect Venezuela's dollar-denominated bonds for 12 months with credit-default swaps has dropped to 37 percent from 44.2 percent at the end of last year, according to data compiled by CMA.
While Venezuela may have bought itself time, the country's ability to keep up with debt payments in 2016 remains in doubt, according to Barclays's Arreaza.
"Next year the country will remain vulnerable," he said.
Venezuela relies on crude for more than 95 percent of its exports. The price for its oil has plunged 53 percent since June to $46.19 a barrel.
While the Andean nation has $20.8 billion of foreign reserves, its obligations next year will prove onerous. It has $4.84 billion of bond payments in the next 12 months and may also need to repay about $7.4 billion of debt to China, according to Barclays. In addition, state-owned oil company Petroleos de Venezuela SA, or PDVSA, has $6.2 billion coming due before March alone.
PDVSA on April 13 will make interest payments on its bonds maturing 2017, 2027 and 2037, the company said in a statement Tuesday in Caracas.
'Open Question'
"They haven't done anything in terms of shifting policy to deal with this shock," Neuberger Berman's Urquieta said. In spite of the emergency measures, "it's not difficult to envision a scenario where they just run out of options. 2016 is a big, open question."
Maduro, faced with plummeting approval ratings amid soaring inflation and worsening shortages of everything from medicine to toothpaste, has shied away from raising gasoline prices in Venezuela that are the lowest in the world.
It costs about 0.2 U.S. cent to buy a gallon of gasoline in Venezuela, based on the black-market currency rate. The government last lifted the state-set prices two decades ago. The subsidy cost the state oil company $15.2 billion in expenses and costs in 2013.
"The government seems very focused on servicing its debt this year, but that means that they enter 2016 with essentially nothing in the bank," Risa Grais-Targow, an analyst at research company Eurasia Group, said by telephone from Washington. "We still believe there is a 60 percent chance of some sort of credit event in Venezuela, but we have moved out the time frame from 2015 to 2016."
Before it's here, it's on the Bloomberg Terminal.
LEARN MORE