Safety Board Urges Aggressive Timetable to Replace Oil Tank Cars
Jim Snyder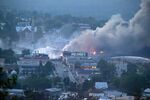 U.S. railroad cars used to haul oil should be upgraded or replaced within five years with sturdier models better able to prevent explosions after derailments, federal safety investigators said in a proposal made public Monday.
The National Transportation Safety Board called its proposal urgent in light of accidents in Illinois and West Virginia and two more in Canada this year that have highlighted the constant risks of carrying crude oil by train.
While the NTSB doesn't have the power to impose new rules on railroads or energy companies, its recommendations could add pressure on President Barack Obama's administration to toughen language in a regulation it's writing that would raise standards for oil-tank rail cars. That proposed rule is scheduled to be completed by May.
The safety board said it was concerned the U.S. planned to allow some existing tank cars to continue operating for 10 more years.
"We can't wait a decade for safer rail cars," NTSB Chairman Christopher Hart said in a statement on Monday. "The industry needs to make this issue a priority and expedite the safety enhancements, otherwise we continue to put our communities at risk."
The use of trains to carry oil has risen along with the sharp rise in U.S. production, which is at its highest level in more than three decades.
Quebec Accident
Accidents have increased, too. By far the most devastating happened in July 2013 when an unattended train broke from its moorings and rolled downhill into the Quebec town of Lac-Megantic. The explosion caused by the train's derailment killed 47 people and pushed the U.S. and Canada to issue new regulations.
The NTSB has raised concern over an older model of tank car known as the DOT-111 for years, saying that the type is prone to rupture in rail accidents.
In the statement Monday, the NTSB focused on a newer, more robust model the industry agreed to build in 2011 known as the CPC-1232. The NTSB said the recent accidents show that this type of rail car can overheat and explode in a fire more quickly than previously thought, the NTSB said.
The NTSB recommended tank cars be upgraded with thermal protections and pressure relief valves to prevent oil from overheating in a fire, which can create enough explosive force to puncture a car's steel shell.
Transport Canada, which regulates that nation's transportation industry, proposed a 10-year phase out of the CPC-1232s that the industry voluntarily agreed to build after concerns about an older model also in heavy use.
The Railway Supply Institute, which represents companies that lease tank cars for shipping oil, has said the industry doesn't have the manufacturing capacity to replace the thousands of tank cars that haul oil within a timeline laid out by the NTSB.
Before it's here, it's on the Bloomberg Terminal.
LEARN MORE