Oil Slump Pushes S&P Toward First Profit Decline Since 2009
Richard Clough and Joe Carroll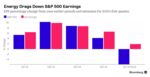 Tumbling oil prices and a stronger dollar are pushing down U.S. corporate profits for the first time in more than five years, hurting companies from Exxon Mobil Corp. to Wal-Mart Stores Inc.
First-quarter earnings per share for companies in the Standard & Poor's 500 Index may have fallen about 5.8 percent, according to estimates compiled by Bloomberg, in the first year-over-year decline since 2009's third quarter.
As earnings season gets its unofficial start this week with Alcoa Inc., the biggest drag will come from a 63 percent profit decline at energy companies. Oil prices have fallen by about half from a year ago as companies pumped their way into a global glut, and the dollar's climb of about 25 percent against a basket of currencies since last summer has chipped away at revenue for companies such as United Technologies Corp.
"There are all these cross currents going on right now heading into earnings season," said Todd Lowenstein, who helps manage $16 billion at HighMark Capital Management Inc. "You're going to have at least on paper a technical earnings recession, meaning two consecutive quarters of negative growth, in the first and second quarters."
The effects ripple across industries. U.S. Steel Corp. last month announced plans to shut an Illinois mill partly on falling demand from the energy companies. The dollar's surge helped make steel imports cheaper, hurting producers such as Nucor Corp. At Dow Chemical Co., profit is poised to drop as plastics prices decline with oil and farmers buy fewer chemicals because their crops are selling for less.
Broader S&P
United Technologies has said it expects foreign exchange to cut $100 million from first-quarter profit on sales of its jet engines, elevators and air conditioners. "That still remains the biggest watch item for me," Chief Financial Officer Akhil Johri told investors on March 12.
The slowdown is showing in some U.S. economic reports. The Labor Department reported Friday that employers added 126,000 jobs in March, the fewest since December 2013. While the economic weakness could weigh on corporate earnings, it has encouraged investors that the Fed may keep interest rates low for longer, and the S&P 500 rose 0.7 percent Monday.
Once energy companies are pulled out of the picture, S&P earnings look a bit better, with a projected rise of 1.9 percent. Alcoa is poised to report a higher profit in part because of rising aluminum demand from automakers and airlines - - two industries that are both benefiting from lower oil prices. Profits at auto manufacturers and their suppliers may jump 42 percent, the estimates show.
"People know that energy prices are down, they know the dollar's up," said Jim Paulsen, chief investment strategist at Wells Capital Management, which oversees $338 billion. "What is less known here is what does the earnings performance look like outside the energy industry."
Consumer Spending
Low gasoline prices, which tend to correspond with higher consumer spending, are helping Wal-Mart partially counter the negative effects of foreign exchange and the inventory shortages caused by the West Coast port strike, said Poonam Goyal, an analyst at Bloomberg Intelligence. Earnings at the world's biggest retailer are forecast to fall about 4.5 percent to $1.05 a share when its quarter ends April 30.
The full benefit of lower gas prices on consumers may not show up this quarter, said Mark Luschini, chief investment strategist at Janney Capital Management LLC.
"There's typically about a six-month lag from the initial price drop in gas prices before consumers believe it's likely to be sustained and are willing to spend some of that," Luschini said. "I think the consumer has the wherewithal to spend and will ultimately part with some of that."
Bright Spots
One place where consumers definitely were willing to open their wallets: Apple Inc. stores. Earnings are forecast to jump about 28 percent to $2.13 a share for the maker of iPhones. That's part of the broader information-technology industry where profits may rise 3.9 percent.
Health care, where results are driven by yearslong drug pipelines and strategic acquisitions, is another group less susceptible to energy prices. The industry's first-quarter earnings may rise 7.3 percent, estimates show.
The profit slump at energy companies is forecast to continue throughout 2015, leading to earnings declines for the broader S&P in the first, second and third quarters. If that holds, it's an ominous sign for the market. Since 1937, out of the 17 occasions where earnings fell for at least three quarters, most occurred within three months of a bear market. The index closed at a record 2117.39 on March 2 and has risen for nine straight quarters, the most since 1998.
"We may not see earnings growth this year unless there's some reversal in some of these larger trends," said John Carey, a Boston-based fund manager at Pioneer Investment Management, which oversees about $230 billion.
The oil industry cut tens of thousands of jobs as shrinking cash flow led companies to cancel drilling plans, defer exploration and postpone multibillion-dollar investments.
Slashed Spending
Exxon, the world's biggest energy producer by market value, is projected to post its worst quarterly profit performance in 12 years, based on analysts' average estimate. Transocean Ltd., which commands rents of $400,000 a day for its ocean-going rigs, may report earnings of about 57 cents a share, a drop of about 60 percent from the year-earlier period, the estimates show.
In response, oil companies probably will reduce spending on major projects this year by an average of 30 percent, said Katrina Lamb, who helps manage $700 million as head of investment strategy and research at MV Capital Management Inc.
The budget cutting will become more extreme if crude markets remain weak for the next several months, said Paul Sutherland of Financial & Investment Management Group Ltd.
"This could go on for a very long time because there's little reason to think oil prices are going to recover any time soon," said Sutherland, who as founder of the Traverse City, Michigan-based firm has cut the energy portion of his $700 million portfolio to 1 percent from about 7 percent a year ago.
Before it's here, it's on the Bloomberg Terminal.
LEARN MORE