Mizuho Said to Hire as Many as 200 RBS Employees in U.S.
Takahiko Hyuga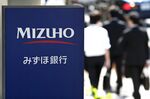 Mizuho Financial Group Inc. plans to hire as many as 200 people from Royal Bank of Scotland Group Plc in the U.S. as part of its deal to buy loans from the British lender, a person with knowledge of the matter said.
Japan's third-biggest bank by market value is in talks to take on 130 to 200 employees from RBS's U.S. unit, including fixed-income and loan staff members, the person said, asking not to be named because the discussions are private.
Mizuho said in February that it will buy the loans for about $3 billion to gain access to corporate clients in North America. The portfolio consists of $36.5 billion of loan commitments to about 200 investment-grade companies, of which $3.2 billion has been drawn.
The transaction underscores an expansion abroad by Japan's biggest lenders as a declining population and near record-low interest rates hamper loan income at home. RBS, which was bailed out by the U.K. government during the global financial crisis, is shrinking its global footprint to focus on consumer banking in its home market following seven years of losses.
Mizuho has started negotiations with the RBS employees and the number it will hire depends on the outcome of the talks, the person said.
Riichirou Tanaka, a Tokyo-based spokesman for Mizuho, declined to comment, as did Atsuko Yoshitsugu, a spokeswoman for RBS in Tokyo. Reuters reported details of the recruitment plans earlier.
Hire Bankers
Mizuho could hire RBS staff including loan officers and debt capital markets bankers, Shuji Matsuura, a deputy general manager in the international coordination division, told reporters when the Japanese bank announced the deal to buy the loans on Feb. 26.
That agreement allowed RBS and Mizuho to explore the transfer of capabilities such as coverage banking as well as debt capital markets and syndication, the Edinburgh-based bank said in a statement in February.
Purchasing the loans and hiring RBS employees give Mizuho a way to expand in the U.S. after Chief Executive Officer Yasuhiro Sato said in December that buying a regional bank there wouldn't be viable. Mizuho is among the top 20 bond underwriters and syndicated loan arrangers in the country this year, according to data compiled by Bloomberg.
The lender follows larger peer Mitsubishi UFJ Financial Group Inc. in developing its U.S. business. Mitsubishi UFJ integrated its U.S. operations under a single holding company last year as it seeks to become a top-10 bank there. It's also Morgan Stanley's largest shareholder.
Before it's here, it's on the Bloomberg Terminal.
LEARN MORE