Kenyan Jets Bomb Al-Shabaab in Somalia After College Attack
Joseph Burite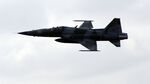 Kenyan jets bombed al-Shabaab camps in neighboring Somalia, four days after the Islamist militants killed at least 147 people in an attack on a university in northeastern Kenya, an army official said.
"The operation is under way and it's part of our ongoing campaign against al-Shabaab since 2011 when we launched Operation Linda Nchi," Kenya Defence Forces spokesman Colonel David Obonyo said by phone Monday from the capital, Nairobi.
Kenyan forces deployed in Somalia in October 2011 in an operation known as Linda Nchi, or 'protect the country' in the Swahili language, to fight an insurgency by al-Shabaab. The al-Qaeda-linked group says it has carried out a series of reprisal attacks in Kenya since the incursion began, including last week's attack in the northeastern Kenyan town of Garissa. The militants have warned of more violence.
Five people have been arrested in connection with last week's attack, four of them while they were trying to cross the Somali border, according to the Interior Ministry. Kenyan President Uhuru Kenyatta vowed to bring the perpetrators to justice and said the security forces are pursuing leads on other accomplices in the attack.
The government also offered a $220,000 reward for the capture of Mohammed Mohamud Kuno, a suspected member of al-Shabaab who the authorities say helped organize the Garissa attack.
Authorities have evidence Kuno was "highly involved" in at least two other attacks in Kenya last year, Interior Ministry spokesman Mwenda Njoka said last week. A Kenyan national and former teacher, Kuno was a commander for the militants in the Jubaland region of Somalia, he said.
The Kenyan Air Force targeted areas in Somalia's southwestern Gedo region near the border with Kenya in Monday's air strikes, Obonyo said.
"Two camps hosting militants in Gondodowe and Sheikh Ismaili were destroyed," he said. "We have been able to confirm that through satellite. A vehicle suspected to carry militants was also destroyed in Gondodowe."
Before it's here, it's on the Bloomberg Terminal.
LEARN MORE