End of Milk Quotas, Strong Franc Are Bad Recipe for Swiss
Corinne Gretler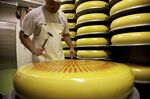 The end of milk quotas in Europe is making a discount Emmental from Germany a stronger foe to Swiss cheese.
The European Union this month scrapped restrictions on how much milk dairy farmers can produce as the 28-nation bloc seeks to liberalize agricultural markets. The three-decades-old quotas indirectly limited cheesemaking by capping the supply of the fatty food's main raw material.
The resulting increase in EU milk production -- Rabobank forecasts that farmers will squeeze as much as 8 percent more from their cows by 2020 -- will gradually increase competition in cheese just as the euro's slump slices into the value of Switzerland's Gruyere and Appenzeller exports.
"Difficult times lie ahead for the Swiss cheese market," said David Escher, director of Switzerland Cheese Marketing AG, a trade group. "Because of the strong franc, foreign cheesemongers were forced to increase prices for Swiss cheese to cover their costs. But at the same time, the competition seized the opportunity to cut prices."
Switzerland exported 17 percent less Emmental last year as Europeans bought cheaper alternatives to the archetypal hole-ridden Swiss cheese.
Supermarkets sell a cave-aged version made by Emmi AG's Kaltbach brand in Switzerland for as much as 30.40 francs ($31.74) per kilogram, compared with 8.65 euros ($9.46) for a generic German-made knockoff at French retailer Carrefour SA.
Big Cheese
Cheese is Switzerland's most important agricultural export. Shipments rose 0.4 percent to 68,255 metric tons in 2014, with the bulk going to Germany, Italy and France, according to Switzerland Cheese Marketing.
The side effects of the EU unbridling milk production may gradually force Swiss producers to backtrack on price increases that they took to offset this year's 13 percent slide in the euro. Some Swiss cheesemakers lifted prices as much as 20 percent in the euro zone after Jan. 15, when Switzerland's central bank abruptly stopped trying to keep a lid on the country's currency.
"We got hit in the head by the strong franc," said Daniel Daetwyler, managing director at closely held specialty exporter Intercheese AG. Price pressure will increase as cheesemakers take advantage of cheaper milk to increase production, he said.
Price-Savvy
Cheaper imports are spreading into Switzerland, where milk can cost as much as double as in France and Germany. About 30 percent of the cheese consumed by the Swiss last year was made by foreign producers, which can call their cheese Emmental but can't print a special label on it that certifies it's from the renowned cheese region.
Switzerland Cheese Marketing singled out German imports sold for as little as 4.80 francs per kilogram to "certain sectors of the food industry whose only criteria for purchasing is price."
Emmi, which only uses Swiss milk for its domestically produced cheese, has increased euro-zone prices about enough to compensate for the drop in the value of the common currency, said spokeswoman Sibylle Umiker. The increased milk production in the EU will probably weigh on prices of mass-market mozzarella and industrial cheese more than specialty varieties, she said.
The company, whose name is derived from the cheese-producing town of Emmen in central Switzerland, is boosting marketing efforts to convince consumers of the benefits of Swiss cheese. Emmi has forecast revenue will drop this year after margins narrowed to a six-year low in 2014. Meanwhile, it's cutting costs.
"Emmi will not weather the difficult year entirely unscathed," Chairman Konrad Graber and Chief Executive Officer Urs Riedener wrote in the company's annual report. "However, given the various measures, we are confident that the losses will be within a range that is easy to digest."
Before it's here, it's on the Bloomberg Terminal.
LEARN MORE