Chris Christie Shows He Knows His 'Way Around a Kitchen'
The New Jersey governor will be a guest on the new public television show Pasta & Politics. 
By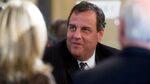 He's traded the Hurricane Sandy-era blue fleece for a pea-green kitchen apron, and his town hall microphone for a chef's knife.
Chris Christie, New Jersey governor and potential 2016 Republican presidential candidate, is grooving at a kitchen island like a boss. His contribution to a dinner of rigatoni Bolognese for a new public television series, "Pasta & Politics," on NJTV, appears to be about 1 cup each of chopped celery and carrots.
He also takes on the business end of a carton of heavy cream, saying: "The governor can do this," as shown in a 30-second clip posted to NJTVOnline.org. Christie, whose late mother Sandy was of Sicilian descent, stars in the premiere episode, airing April 8 at 8:30 p.m., alongside host Nick Acocella, editor of the New Jersey-based newsletter Politifax.
Kevin Roberts and Brian Murray, spokesmen for Christie, didn't return e-mails for comment.
Acocella, in an interview posted to the website, says he's also taped episodes with Senate President Steve Sweeney, a Democrat from West Deptford, and former Governor Thomas H. Kean, a Republican living in Far Hills.
"Both the governor and Steve Sweeney know their way around a kitchen," says Acocella, a man partial to chopped ginger in his red sauce. "Christie says he cooked when he was first married. Sweeney says he learned how to roast tomatoes from his Italian grandmother."
The website says Acocella has agreements to tape Christie's lieutenant governor, Kim Guadagno, and Democratic Assembly Speaker Vincent Prieto.
Also on the guest list: U.S. Senator Bob Menendez, a Democrat from Paramus, New Jersey, indicted April 1 on federal corruption charges in a case involving almost $1 million in gifts and campaign donations from Salomon Melgen, a Florida eye doctor who also was charged.
Menendez and Melgen pleaded not guilty on April 2 in federal court in Newark.