China's Dickensian Boarding Schools
Teaching at many rural schools is poor; living conditions are worse
By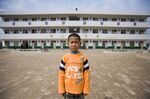 In the U.S. the words "boarding school" conjure images of children attending class in ivy-covered buildings, eating in oak-paneled dining halls, and exercising on well-manicured sports fields. An increasing number of these fortunate students come from wealthy families all over the globe—many from China.
That cosseted world is unimaginable to the 33 million children living and studying in China's 100,000 rural boarding schools—a number roughly equal to two-thirds of all children enrolled in U.S. public schools. At a rural elementary school in a poor, mountainous region of Shaanxi province in China's northwest, the 60-odd students, age 5 to 14, sit for their lessons in dirty, concrete-walled classrooms. Meals, cooked on wood-fired stoves, are spare; meat is a once-a-week extravagance. Eighteen boarders sleep in bunks in unheated rooms.
Hunger and loneliness are commonplace, according to students, who spend more than 10 months a year at the school. A 13-year-old girl bundled up in a pink parka to keep warm against the early March chill says she gets to see her parents, who work in the provincial capital of Xi'an, only two or three times a year. "The most difficult part of being here: I miss my mother and father," she says, breaking into tears. The girl, other students, teachers, and administrators interviewed for this story asked that neither they nor the school be identified, as they were not authorized to speak to foreign media.
Data gathered by independent researchers show that Chinese boarders lag emotionally and academically. "The boarding kids are the ones who cause the most trouble," says the principal of a junior high school in Shaanxi that has a mix of boarding and day students. "Their emotional development isn't very good because they haven't grown up with their parents," he says. "They don't study or do their homework, and when they come to class they just play with their mobile phones." He adds that a request for permission to hire more "life teachers," to help boarders with psychological issues, was rejected by the township education bureau.
China's boarding schools are the product of a government policy of closing or merging small rural day schools in response to falling birthrates. According to the education ministry, more than 240,000 village schools have been closed since 2000 and replaced with thousands of academies built to board students. China has more than 100 million rural students in first through ninth grades. The proportion of them who live at school has grown rapidly in recent years, reaching more than a quarter in 2011, says Yang Dongping, director of the 21st Century Education Research Institute in Beijing. A large number of these children are what Chinese call liushou ertong, or "left-behind children," whose parents labor in factories and on construction sites in wealthier regions of the country. Stringent residency rules make it almost impossible for migrant workers to enroll their children in city schools.
Beijing policymakers envisioned rural boarding schools as a means to narrow the educational performance gap between cities and the countryside. There's no evidence they've succeeded. A study by Stanford, the University of California at Davis, the Chinese Academy of Sciences, and Catholic University of Leuven found that fourth-graders in rural areas are at least two grade levels behind their urban peers in math and Chinese. Fewer than one-half of rural students finish high school, compared with 90 percent in the cities. "The reality is that elementary students who board have a very obvious and serious problem with academic performance, compared to those who don't board," Yang says. Officials at China's education ministry didn't respond to faxed questions or telephone calls.

Boarding students trail their peers in other ways. The average boarder is 3 centimeters shorter than a nonboarder, according to another joint study by Stanford, the Chinese Academy of Sciences, and Northwest University in Xi'an. "The students who go home for the weekend are OK. I worry most about those who live here all the time," says the principal of the Shaanxi elementary school. "They have enough to eat but not necessarily always the right nutritious things."
Years of living in dirty, crowded dormitories with little supervision—one dorm monitor is often in charge of more than 100 students—exact a psychological toll. With few if any extracurricular activities, students spend much of their spare time confined in classrooms engaged in "self study." Sixty-three percent of boarding students say they're lonely, and almost a fifth are depressed, with many considering suicide, according to a study published this year by Growing Home, a Beijing research organization that focuses on education. "I hated the dormitory most of all—I never imagined it could be so crowded," says a 19-year-old who slept in a room with 20 others at boarding school before dropping out two and a half years ago. "Still, I often regret not staying," he says wistfully during a break between shifts as a cook at a restaurant in Xi'an.
Since 2010, China's education ministry has spent at least 61.8 billion yuan ($10 billion) renovating school buildings in rural areas, the official Xinhua News Agency reported last year. Boarding students are now eligible for subsidies to pay for everything from schoolbooks to daily necessities, and government-imposed tuition fees have been waived. While these efforts are laudable, they aren't enough, Yang says. "The hardware is easy. They can just spend money and build more buildings. But solving the software problems—creating a better, healthier, more caring environment—I see no hope there."
Scott Rozelle, co-director of the Rural Education Action Program at Stanford's Freeman Spogli Institute for International Studies, cautions that China's deficit in rural education could one day rise to the level of a national crisis. Just one-quarter of Chinese workers have a high school education, which makes the workforce less educated than those of Turkey, Brazil, and South Africa. "There is no way China can become the high-wage, skilled economy its leaders say they want when 400 million working-age adults can't read or write," he says.
The bottom line: A policy of putting children in rural areas into boarding schools may be creating an education crisis in China.
Before it's here, it's on the Bloomberg Terminal.
LEARN MORE