Bronx Bummer as Yankees' Power Decline Mirrors Playoff Absence
Erik Matuszewski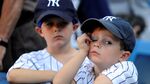 The New York Yankees haven't been living up to their Bronx Bombers nickname and have two straight years out of the playoffs to show for it.
The Yankees are three years removed from leading Major League Baseball with a franchise-record 245 home runs, the 12th time in a 13-year run that they topped 200 homers. All three times they've failed to reach the 200 home-run mark since 2000 - - in 2008, 2013 and 2014 -- they've missed the playoffs.
New York had 147 homers last season, a year after hitting 144 in 2013 and ranking 22nd out of 30 MLB teams. It's the fewest for the franchise over a two-year stretch since 1995-96 - - before Mark McGwire and Sammy Sosa broke Roger Maris's home run record -- and the Yankees' offense enters this season with major questions about where its power will come from, even with Alex Rodriguez back from his season-long suspension.
"When you look at this club, age and these nagging injuries that keep coming up are certainly a hindrance when you're looking for power," MLB Network analyst Billy Ripken, who played 12 seasons in the majors, said by phone.
The Westgate Las Vegas SuperBook offers odds on 49 players to win this year's home run title, from Giancarlo Stanton of the Florida Marlins (6-1) to Jason Heyward of the St. Louis Cardinals (300-1). There's not one Yankee player on the list, which includes Lucas Duda of the New York Mets, Steve Pearce of the Baltimore Orioles and Yasmany Tomas of the Arizona Diamondbacks, all listed at 100-1.
The Yankees open the regular season on Monday afternoon with a home game against the Toronto Blue Jays, one of 14 games on the first full day of play.
SuperBook oddsmaker Ed Salmons said there are serious questions about most of the Yankees' biggest bats entering the 2015 season. "It's just a bunch of old guys that they keep putting Band-Aids on, hoping this happens and that happens," Salmons said in a telephone interview.
A-Rod Questions
None is a bigger wild card than Rodriguez, the three-time American League Most Valuable Player who ranks fifth in MLB history with 654 home runs.
Rodriguez, who turns 40 in July, is coming off baseball's longest suspension for performance-enhancing drugs and hasn't played in a regular-season game in more than 17 months. Rodriguez's production declined as his injuries mounted from 2011-13 and is under contract for $61 million over the next three years. His three spring training home runs were tied for the team lead during the preseason.
First baseman Mark Teixeira, who hit 30 or more homers every season from 2004 through 2011, has been limited by injuries to a total of 138 games the past two years, a span during which his batting average was .209. Outfielder Carlos Beltran turns 38 next month and is coming off a season in which an elbow injury -- which required surgery in September -- limited him to a .233 average and 15 homers in 403 at-bats.
Lineup Key
"Let's face it, the key to any lineup is the middle of the order and how they produce," Yankees manager Joe Girardi said at the Yankees' training complex in Tampa. "That's where we need to keep those guys healthy and have the production we expect from them."
Catcher Brian McCann, who hit 23 in his first season with the Yankees, led the team in homers last season. Teixeira was the only other player with more than 20, even though the team has a hitter-friendly ballpark.
The last player to lead the Yankees with as few as 23 home runs during a full 162-game season was Don Mattingly in 1989. The team hit 130 homers that season and finished fifth in the AL East with a 74-87 record.
Concerns about the Yankees' power are only heightened by the preseason questions surrounding the starting pitching.
"It just looks like a dam, that once the water starts breaking, it's just going to burst," the SuperBook's Salmons said in a telephone interview. "When this guy gets hurt, it's going to create a hole. Then that guy gets hurt and now you've got two holes. And then one of your pitchers is going to break down. It's an aging, injury-prone roster."
Injured Pitchers
CC Sabathia is coming off a season shortened by knee surgery, a year after giving up a major-league leading 112 earned runs. Masahiro Tanaka is trying to avoid ligament replacement surgery in his elbow after suffering a small tear midway through last season, and Michael Pineda missed almost three months in 2014.
Yet Rodriguez remains the team's biggest unknown entering the season. Girardi has said he doesn't know what to expect from Rodriguez, who over the past four years has 41 home runs while appearing in 265 of the team's 648 games.
Over/Under
Las Vegas sports books have the over/under betting line on Yankees' victories ranging from 80 to 82 this season, an indication oddsmakers think the franchise might be headed for its first non-winning season since 1992. If the Yankees are left out of the playoffs for a third straight year, Ripken said declining home run totals undoubtedly will be one of the main reasons.
"The question is: Where do you find the power, or do we have to find a new nickname?" Ripken said. "They're not the Bronx Bombers anymore, at least right now."
Before it's here, it's on the Bloomberg Terminal.
LEARN MORE