Mapping Winter's Last Gasp in America
When will the last freezing day occur in your neck of the woods?
John Metcalfe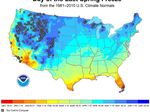 Spring technically arrived on March 1 (or March 20, if you prefer the lame astronomical definition), but some forlorn parts of the country are still getting blasted with arctic cold and snow. That prompts the question: When will this fake, extended winter finally release its icy grip?
That depends, of course, where you live. If it's the West—specifically most of California—winter never even made an appearance this year. And if it's the East, the cold lingers on the farther north you go, with benumbed outposts located in higher elevations like the Appalachian mountains.
To know the situation for your community, take a look at this map of winter's death rattle across the continental United States. Made by NOAA, the map shows the average dates different regions experience their last day of freezing temperatures. Circles depict heat-sinks like Miami and the Bay Area that hardly ever experience a freeze, while squares are places that can suffer sub-zero temperatures year 'round (northern Maine, the Rockies, and basically all of Alaska):

In a typical year, the final freeze would be arriving this week or next in New York and Washington, D.C., during the last two weeks of April in Boston and Chicago, and sometime in June near Denver and in Duluth, Minnesota. Aside from pleasuring weather nerds, this information—based on the 1981-2010 U.S. Climate Normals—is helpful for folks who grow stuff. NOAA explains more:
Freeze Normals are especially useful to agriculture and gardening. For farmers, planting early can yield high rewards, but it also poses a significant risk to their plants. Freeze Normals can help them determine when they're most likely to see their last spring freeze, allowing them to mitigate some of that risk. Additionally, these Normals can help determine when pests are likely to emerge in specific areas. And, plant nurseries use these Normals and the information they provide about planting and growing conditions to help determine where and when to advertise plants and seeds to customers in a specific area.