Poroshenko Says He's Ready to Call Unified Ukraine Vote
Daryna Krasnolutska, Kateryna Choursina and Volodymyr Verbyany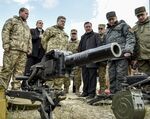 Ukrainian President Petro Poroshenko said he's ready to call a referendum on the country's unified status after constitutional changes to devolve power under a peace agreement to end the conflict with pro-Russian rebels.
The changes, part of the cease-fire accord negotiated in February, have "nothing to do with federalization" and the country will remain a unitary state with Ukrainian as its sole official language, Poroshenko said at the first meeting of a constitutional commission in Kiev on Monday.
"I would like to remind you, so that everyone remembers it, like the Lord's Prayer, that the only state language of Ukraine is and will remain Ukrainian," Poroshenko said. "I'm ready to have a referendum on the question of the state structure if you will consider it necessary."
During the yearlong conflict with separatists, Ukraine has repeatedly rejected Russia's calls to adopt a federal structure providing self-governance for the mainly Russian-speaking rebel areas of the country's east. Russian President Vladimir Putin said a week after the Feb. 12 peace deal signed in Minsk, Belarus, that Ukraine had agreed to make constitutional changes that "satisfy demands for independence -- call it what you will, decentralization, autonomy or federalization -- in different parts of the country," according to the Kremlin.
'Unitary State'
Decentralization won't affect defense, national security, or foreign policy, and central government powers in these areas will even be strengthened, Poroshenko said. Ukraine "was, is, and I'm convinced, will remain a unitary state," as some 90 percent of the public supports this, he said.
Poroshenko's statements on retaining Ukraine's unitary structure are "absolutely unacceptable" and don't comply with the Minsk agreements, said Andrei Purgin, head of the rebel Donetsk parliament, according to the Interfax news service.
There can be discussion about the constitution only with "legitimately elected representatives" in eastern Ukraine and "never with Russian mobsters and terrorists," Prime Minister Arseniy Yatsenyuk said at the commission on Monday, according to the government's website. "Neither Moscow nor anyone else will have a right to tell us what kind of constitution we should have. It is our country and our constitution," he said.
Debt Restructuring
Putin sees a federal structure as "the best way to dismantle Ukraine" by enabling rebel areas to establish "their own state," Yatsenyuk said in a Feb. 20 interview with Canada's The Globe and Mail newspaper.
While fighting has largely subsided in eastern Ukraine's Donetsk and Luhansk regions, the government in Kiev and the separatists are trading accusations about violations of the truce in a conflict that has killed more than 6,000 people and devastated the country's economy.
The Finance Ministry in Kiev said on Saturday that Ukraine will seek to restructure all external sovereign debt incurred before March 2014 as part of negotiations to save $15.3 billion in public sector financing under its bailout agreement with the International Monetary Fund.
Russia expects to hold $3 billion in Ukrainian Eurobonds until they fall due for repayment at the end of the year, Russian Deputy Finance Minister Sergey Storchak said at a briefing in Hanoi, Vietnam, on Monday. Russia has had no negotiations with Ukraine on restructuring the debt and "we didn't sell the bonds to anyone," he said.
Pro-Russian rebels breached the truce 14 times overnight, shooting at government forces with mortars and an anti-aircraft gun, the Ukrainian military press center said Monday in a statement on Facebook. Seven reconnaissance drones were seen near the strategic port city of Mariupol.
Ukrainian troops fired at rebel-held territory 21 times in the past day, including with artillery, mortars and rocket-propelled grenades, the separatist-run DAN news service reported Monday, citing the Defense Ministry of the self-proclaimed Donetsk republic.
Before it's here, it's on the Bloomberg Terminal.
LEARN MORE