Tiger Woods Has 22% Shot at Top-20 Masters Finish, Odds Suggest
Erik Matuszewski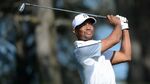 Tiger Woods has a 22 percent chance of being one of the top 20 finishers at golf's Masters Tournament, according to oddsmakers.
Woods, a four-time Masters champion, said on April 3 that he'll return from a two-month absence to play in the season's first major championship. The tournament starts Thursday at Augusta National Golf Club in Georgia, where Woods has finished out of the top 20 in two of 17 appearances as a professional.
The Westgate Las Vegas SuperBook has set a +350 money line that Woods will have a top 20 finish, meaning a winning $100 bet would return a $350 profit. Those odds break down to a 22 percent chance, according to Las Vegas-based handicapping information website Pregame.com. To wager Woods will finish 21st or worse, a bettor would have to risk $420 to win $100.
Woods hasn't placed in the top 20 of a full-field golf tournament since the Turkish Airlines Open in November of 2013.
"I'm excited to get to Augusta," Woods, who won the most recent of his four Masters titles in 2005, said on his website. "It's obviously very important to me and I want to be there."
In eight full-field events over the past year, Woods missed the cut for weekend play three times, withdrew three times and failed to finish better than 25th place. He hasn't played on the U.S. PGA Tour since he withdrew from the Farmers Insurance Open at Torrey Pines on Feb. 5 with back pain.
Chipping Trouble
Woods struggled with his chipping and with swing changes in his most recent events, shooting an 11-over-par 82 in his last full round at the Phoenix Open on Jan. 30. He's dropped to 104th in the Official World Golf Ranking during his layoff, his lowest spot since turning pro in 1996, yet said he's worked a lot on his game and is "looking forward to competing."
"He's got to go out and probably exorcise some of those demons," said ESPN golf analyst Paul Azinger, who won 12 times on the PGA Tour, including the 1993 PGA Championship. "The first little pitch shot he's got to hit will be micro-analyzed, and he knows that. There's a big microscope on that guy."
With 50-1 odds of winning at the SuperBook, Woods is tied for 16th in the 98-man field. Rory McIlroy as the 6-1 favorite.
Woods is even-money to make the cut for weekend play, meaning a winning $100 wager would return a $100 profit. To bet Woods will miss the cut at the SuperBook, a bettor would have to lay $120 to win $100, suggesting a higher probability that he won't be around for the final two rounds.
Missed Cut
The only time Woods has missed the cut at the Masters was as an amateur in 1996. He won his first title the following year. His worst finish as a pro was a tie for 40th place in 2012, while his only other finish outside the top 20 at Augusta National was a tie for 22nd in 2004.
The over/under betting line for Woods's first-round score has been set at 73 1/2, meaning oddsmakers think there's a higher probability that he shoots worse than the par of 72 at Augusta National on Thursday. Woods has started with a round of even-par or better in his past six Masters appearances.
"He's had such a good short game and such a great game throughout his career, I think it's going to be an easy fix," Phil Mickelson, a three-time Masters winner, said at the Houston about Woods. "I think his game will be sharp."
Before it's here, it's on the Bloomberg Terminal.
LEARN MORE