Malaysian PM's Chief of Staff, Lawmaker Die in Helicopter Crash
Liau Y-Sing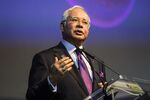 An aide to the Malaysian prime minister and a lawmaker were killed after the helicopter they were traveling in crashed in the outskirts of the capital.
Azlin Alias, chief of staff to PM Najib Razak, and lawmaker Jamaluddin Jarjis were among six who lost their lives in the incident Saturday in Semenyih, just outside Kuala Lumpur, Transport Minister Liow Tiong Lai said in an e-mailed statement. The rest onboard were Jamaluddin's bodyguard Razakan B. Seran, pilot Clifford William Fournier, operations assistant Aidana Baizieva and Tan Huat Seang, according to the statement.
"I am personally grief-struck," PM Najib said in a statement e-mailed late on Saturday. "I have ordered an immediate investigation into the cause of the tragedy."
The helicopter was returning from a wedding reception for Najib's daughter in the eastern state of Pahang when the incident occurred, according to a report in The Star newspaper. The report cited an unidentified witness as saying he had heard two explosions, one in mid-air, which strew debris all over the rubber plantation where the helicopter crashed.
Before it's here, it's on the Bloomberg Terminal.
LEARN MORE