What We Can Learn From Mapping America's Disjointed Bike Lanes: Best #Cityreads of the Week
A roundup of the best stories on cities and urbanism we've come across in the last seven days.
By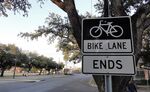 Tweet us your favorites with #CityReads.
"Mapped: How Hard It Is to Get Across U.S. Cities Using Only Bike Lanes," Emily Badger and Christopher Ingraham, The Washington Post
There is a maddening bike lane in downtown D.C., on one of our nightly commutes, that disappears abruptly with no obvious logic. And it's at least entertaining to envision possible scenarios for why this may have happened. The city ran out of bike-lane paint. Or maybe the crew that striped the lane became suddenly incapacitated or distracted. Maybe they took a lunch break — Busboys and Poets entices nearby — during which it started to pour and so no one could finish the job.

Bike commuting throughout the city is often like this: cobbled together out of a bit of bike lane here, an unprotected shoulder there, a scrap of sharrow and some silent pleas that cars won't run you over. Bike lanes occasionally appear and vanish multiple times on the same street. Sometimes they last just a few hundred feet. It feels as if someone striped the city with dozens of quarter-mile commutes in mind.
"The Audacious Plan to Turn a Sprawling D.C. Suburb Into a Big City," Luke Mullins, Washingtonian
Walk into the Ascent and you'll find all the spiffy features you could ask for in a 21st-century apartment tower. There's a pet-grooming salon and a bicycle-repair station, as well as a wi-fi-enabled lobby where you can check the flat-screen TV for potential delays at the Metro stop a three-minute walk away. The 24-hour concierge will sign for your grocery deliveries and store them in the walk-in fridge.

Every apartment has dark hardwood floors and floor-to-ceiling windows. On the 26th floor, you can lift weights in the fitness center, shoot billiards in the lounge, or relax on the roof deck. There's a fire pit to huddle around in the winter, a swimming pool for summer, and an earth-friendly feature that won't leave you feeling guilty about your carbon footprint: A rain garden prevents the first inch of precipitation from polluting nearby streams. Plus, because the apartment building is the tallest for miles, panoramic views stretch from Washington National Cathedral to the Blue Ridge Mountains.

Ready to move in? There's one more thing you need to know: The Ascent is in Tysons Corner, a 4.3-square-mile tangle of parking lots and office parks that's long been considered one of the least habitable parts of Washington. Until—maybe—now. "This is the difference between what's been done in Tysons," says developer Aaron Georgelas, "and what will be done in Tysons."

"Built for Humans," Bryce T. Bauer, Guernica
Gentrification is driven by myriad factors, among them global investors, real estate developers, and the media, which celebrates "destination neighborhoods." But there is one group of people who in this fraught urban process have been painted both as perpetrator and victim: the artists.

Brooklyn College sociologist Sharon Zukin has placed this paradox at the center of her work. Her landmark 1989 book, Loft Living, examined the gentrification of New York City's SoHo neighborhood. Loft Living—whose title was a neologism at the time—chronicled the transformation of the cast-iron downtown lofts from industrial spaces to live/work artists' studios to upscale real estate commodities, a trajectory which, in effect, diminished the neighborhood's arts scene.

When Loft Living was first published, artists' laments about real estate in New York City mirrored the concerns that have plagued residents for much of the last century. Namely, it's tough to find a suitable and affordable place to live. Since the late '80s, the tenor of that complaint has shifted from one of anxiety to one of fear. In recent years, rents have climbed rapidly and inexorably. New economic realities have prompted artists and other low-income residents to flee the city for cheaper locales—among them, upstate New York, Philadelphia, and Detroit. Zukin says that this exodus threatens to undermine the diversity and vibrancy of the city, as well as its economic health.
"Stuck in Seattle," Karen Weise, Bloomberg Business
About 20 workers wearing hard hats and reflective vests clump together on the edge of a chasm near Seattle's waterfront, peering down a hole 120 feet deep and 83 feet wide. The last men have been craned out of the pit in a yellow metal cage. Gulls squawk. A TV news helicopter hovers overhead.

A dozen journalists stand nearby on the bed of a truck. We're here to see Bertha, one of the world's biggest tunneling machines. Or at least a piece of her. A 240-foot crane is about to haul a 540,000-pound steel shield out of the ground, 20 months after Bertha started digging a highway. Almost imperceptibly, the crane starts rising.

The event, on a Thursday in mid-March, is part of a massive rescue mission to fix the $80 million machine. She broke abruptly in December 2013 after boring through just 1,000 feet, one-ninth of her job. Her seals busted, and her teeth clogged with grit and pieces of an 8-inch steel pipe left over from old groundwater tests. She stopped entirely.

The tunnel, with a budget of $1.4 billion and originally scheduled to be finished in November 2015, is two years behind schedule. The state's contractor, a joint venture called Seattle Tunnel Partners (STP), has spent months digging to reach Bertha and crane her to the surface, where a weary Seattle awaits.

"Iron Mayor," Betsy Morais, The New Yorker
Steven Fulop, the mayor of Jersey City, has a Kuota K-Factor bike with Mavic Cosmic Carbone SLS wheels. "It's for triathletes," he said, as he walked out of City Hall and along the bike lane on Grove Street. He wore a long brown coat and a blue-and-red tie. "I did an Ironman—that's with a two-and-a-half-mile swim, a hundred and twelve miles on the bike, and then a marathon," he said. "Now I do the half Ironman. In the mornings, I train." This involves a 5:40 A.M. bike ride: twenty-five miles, up to the George Washington Bridge and back. Fulop, who is thirty-eight, has posted on Twitter and Facebook about his athletic pursuits, his encounters with tapas chefs and local artists, and a free heart checkup with Dr. Oz. He moved to Jersey City in 2000, and, after stints in the Marine Corps and at Goldman Sachs, he was sworn in as mayor in 2013. "We're not yet at the forefront of top-tier midsize cities," he said. "Starting to do things like bike-share systems is how we're going to get there."

In January, Fulop announced that Jersey City will start a program that connects to Citibike, in New York, allowing a person to hop on a bike, ride it to the PATHstation, turn in the first bike, and pick up a new one on the other side of the river. He envisages the program attracting New Yorkers who want to spend the day in Jersey City. "The views of Manhattan are second to none," he said.

He strolled toward Grove Street Plaza, which during the summer, he said, is "literally filled, filled, filled with bikes, so this is an ideal place for one of the larger docking stations." He looked around. Behind him was an Asian fusion place and a Duane Reade. He added, "There was nothing here. It was empty. In the past four years it's been on steroids."

Top image via CC License.