Israeli Security Cabinet United in Opposition to Iran Deal
Yaacov Benmeleh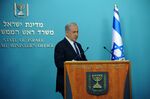 Senior Israeli ministers united today in opposition to the deal on Iran's nuclear program after Prime Minister Benjamin Netanyahu told President Barack Obama the agreement threatened Israel's existence.
"This deal gives international legitimacy to the illegal Iranian nuclear program and will leave Iran with an extensive nuclear infrastructure," Netanyahu said in an e-mailed statement. "It will lead to an almost immediate removal of sanctions at a time when Iran is conquering large parts of the Middle East, including Yemen, and threatening to destroy Israel."
Iran and world powers said on Thursday they had agreed on the main outlines of an accord, from a timetable for lifting sanctions to the re-purposing of Iranian nuclear facilities. Obama called the deal an "historic understanding" and said the U.S. will increase long-term security consultations with Israel and discuss how to "remain vigilant in countering Iran's threats."
"Israel demands that any final status agreement will include explicit recognition by Iran of the state of Israel's right to exist," Netanyahu said. All members of his security cabinet opposed the accord in a meeting today, according to a text message from Netanyahu's office.
Economy Minister Naftali Bennett said in an e-mailed statement that "deal or no deal, Israel will do what is needed to protect itself and its citizens."
Netanyahu has warned against signing a "bad deal" with Tehran that would allow the Iranians to make weapons from nuclear materials and use them against Israel. Iran has repeatedly stated its nuclear facilities are for peaceful purposes.
Before it's here, it's on the Bloomberg Terminal.
LEARN MORE