Kenya Student Smears Blood to Play Dead During Campus Attack
Ilya Gridneff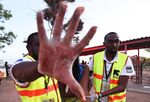 When al-Shabaab gunmen went on a killing spree at Garissa University College in eastern Kenya, Hellen Titus played dead by smearing other students' blood on her face.
"As soon as I heard shooting, I knew it was al-Shabaab," the 21-year-old bachelor of education student said as she recovered from a gunshot wound to her right wrist at Garissa Hospital. "They killed Christians praying in the morning. They separated the women from the men and told us the Koran forbids them to kill women. But they tricked us and started killing the women."
At least 147 people were killed and 79 injured when gunmen stormed the campus, about 330 kilometers (204 miles) northeast of the capital, Nairobi, before dawn on Thursday and continued their assault until after nightfall, the Interior Ministry said. It was Kenya's worst attack since al-Qaeda bombed the U.S. Embassy in Nairobi in 1998, killing more than 200.
Garissa remained under a heavy police and military presence as health organizations including Medecins Sans Frontieres and the International Committee of the Red Cross worked to help the injured. Relatives searched for loved ones.
MSF has treated more than 70 patients for wounds from gunshots, blasts and glass, the Paris-based group said in an e-mailed statement. Care is being provided to "hundreds" of students evacuated to Garissa airport who are expected to be taken by Kenyan authorities to Nairobi, MSF said.
'Provoke Division'
"The situation is extremely difficult, and the students are in a lot of shock," Bashir Abdiweli, MSF's coordinator in Garissa, said in the statement.
The attack was an attempt by "terrorists" to "undermine education, to provoke division between different faiths, to deprive the country of a future of economic and cultural growth, of stability and dignity for all its citizens," Federica Mogherini, the European Union's foreign policy chief, said in a statement on its website.
All students have been accounted for and 587 were evacuated, the Kenya National Disaster Operation Centre said on Twitter. Quinter Anyango, a 22-year-old education major, was studying as the attack broke out.
"I ran and ran and hid in bush with my head down until 5 p.m. when a Kenyan soldier rescued me," she said at Garissa Hospital.
'Lost Friends'
At the university on Friday, ambulances removed bodies of victims. Titus said the gunmen spoke the local Swahili language and demanded Kenya withdraw troops from Somalia, where they have been participating in an African Union force against al-Shabaab. Four attackers were killed, Interior Minister Joseph Nkaissery said.
The militant group, which claimed responsibility for the attack, has waged an insurgency in Somalia since 2006 in a bid to impose Islamic law. Kenya has faced bombings of bars, churches, and markets for sending troops to Somalia. In 2013, an attack on the Nairobi's Westgate shopping mall left 67 dead.
"I've lost friends," Titus said as she sipped sweet tea in the hospital. "I don't know where my roommate is."
Leaders in northern Kenya want President Uhuru Kenyatta to "beef up" security, Garissa country Governor Nathif Adam said in an interview at a peace march.
Kenyatta on Thursday ordered the police to speed up the recruitment of officers to battle the militants. The government offered a $220,000 reward for Mohammed Mohamud Kuno, an al-Shabaab member on a government watch list, in connection with the attack, Interior Ministry spokesman Mwenda Njoka said by phone. Police imposed a 12-hour curfew starting Friday at 6:30 p.m. in Garissa, Mandera and Tana River counties.
The university was targeted because it was a "soft spot," Adam said. "Any spot where al-Shabaab can do a maximum massacre is what they look for," he said. "All the leadership of northern Kenya is unified against this heinous act of terrorism."
Before it's here, it's on the Bloomberg Terminal.
LEARN MORE