Iron Ore Futures in China Extend Slump to Record Low on Surplus
Bloomberg News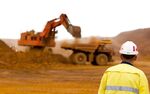 Iron ore futures in China dropped to a record intraday low on Friday on concern demand was slowing in the biggest consumer as global mining companies increase supply.
Prices fell as much as 2.6 percent to 370 yuan ($59.7) a metric ton on the Dalian Commodity Exchange, the lowest level since trading started in October 2013, before closing at 380 yuan. The contract lost 10 percent this week, the most ever.
Global iron ore rates have plunged below $50 a ton to the lowest in a decade as Rio Tinto Group and BHP Billiton Ltd. expanded low-cost production and demand from China weakened. World consumption will shrink this year for the first time since 2009, Deutsche Bank AG said on Tuesday, forecasting prices may drop below $40. Peak steel is arriving in China as output and use decline after 2015, Morgan Stanley predicts.
"Consumption is slowing as investment in real estate weakens and steel production is set to drop," Wu Zhili, analyst at Shenhua Futures Co. in Shenzhen, said by phone on Friday. "Big international miners continue to boost supply. It may take one or two years to reach the bottom."
Ore with 62 percent content at Qingdao fell 5 percent to $47.08 a dry ton on Thursday, according to Metal Bulletin Ltd. That's the lowest level since 2005, based on daily and weekly data from Metal Bulletin and annual benchmarks compiled by Clarkson Plc, the world's largest shipbroker, for ore delivered to China. Prices dropped 11 percent this week.
Growth Weakens
China's economy, which consumes about two-thirds of iron ore transported by sea, expanded last year at the weakest pace since 1990 and will probably slow further in 2015. Efforts by policy makers to stimulate growth have had only limited impact on the iron ore market so far this year, Morgan Stanley said.
Steel reinforcement-bar for October delivery closed down 1 yuan at 2,341 yuan a ton on the Shanghai Futures Exchange, the lowest for most active futures since trade started in 2009. Prices fell for a ninth day, the longest losing run since 2010.
Seaborne supply will exceed demand by 55 million tons this year, rising to 184 million tons in 2018, Morgan Stanley estimates. The world's biggest mining companies will add 310 million tons of output through 2017, Deutsche Bank said on Tuesday, forecasting that iron ore will average $51 this year.
— With assistance by Haixing Jin
Before it's here, it's on the Bloomberg Terminal.
LEARN MORE