What's in the Iran Nuclear Agreement at a Glance
David Lerman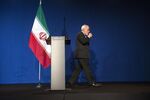 Here are the major elements of the framework agreement reached between Iran and world powers on its nuclear program, with details to be worked out in a final accord by June 30:
-- NATANZ: No enrichment facilities will be permitted except at Iran's Natanz site.
-- FORDO: Its underground Fordo nuclear site will be converted into a nuclear physics and technology center with no fissile material permitted there.
-- ARAK: The heavy-water reactor at Arak will be redesigned so it won't produce weapons-grade plutonium. The stockpile at Arak will be exported.
-- VERFIFICATION: The International Atomic Energy Agency will be given access to all sites and the ability to confirm past and present activities.
-- SANCTIONS: The U.S. and European Union will suspend sanctions once the IAEA verifies that Iran has taken the key required steps.
While Iran's Foreign Minister Javad Zarif said that sanctions against Iran will be lifted, he acknowledged the "term of art" may vary depending on legalities. The U.S. State Department said in a statement that the sanctions wouldn't be repealed and could "snap back into place" if Iran violates its commitments.
-- HOW LONG: The U.S. said that Iran would restrict uranium enrichment for 15 years and agree not to build new enrichment facilities for that period.
-- HOW MANY: The U.S. also said that Iran has agreed to reduce its installed centrifuges by two-thirds, from about 19,000 today to about 6,104 and that all of those would be its first-generation model. For 10 years, only 5,060 of the centrifuges could enrich uranium.