Ukraine Shoppers Downsize Buying Habits to Counter Hryvnia, War
James M. Gomez and Kateryna Choursina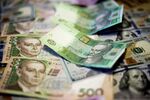 Drifting through the aisles of a Kontynent supermarket in Kiev, Mykhaylo Ilchuk was learning what it takes to downsize his personal life.
Instead of the usual half-loaf of fresh-baked brown bread, the 58-year-old Ukrainian vocal coach opted for a quarter. Forgoing Spanish apples and cucumbers or Italian pasta, he rounded out his shopping trip with two sweet rolls and a small pouch of coffee. Cutting back on basic supplies is a response to strains stemming from the currency losing more than half of its value during a yearlong separatist conflict and an inflation spike to more than 34 percent.
"I now spend more on food than before, but my wages have stayed the same," he said, pausing near a shelf stocked with designer drinks that failed to attract buyers. "With rising prices, it's difficult for ordinary people to survive."
With the hryvnia crashing and the government struggling to quell fighting in Ukraine's easternmost region, consumers in the former Soviet republic are smarting from the pinch of a war economy that's distorted the retail sector. From imported products to domestic goods inflated by soaring fuel and raw materials prices, merchandise is more expensive, risking a popular backlash against authorities as they struggle to cut corruption, pay debtors and find a way out of the war.
Pulling Out
Companies including Marks & Spencer Group Plc, Gap Inc. and Esprit Holdings Ltd. are curbing Ukrainian operations or have pulled out entirely, while domestic chains such as Kontynent need to adjust marketing and stocking practices to allay the pain.
The price distortion is worst among imported products. A kilo of dutch tomatoes, for instance, goes for half a pensioner's average monthly income of 1,560 hryvnia ($67) at a downtown supermarket. On the Kiev street where protesters fought police and forced former President Viktor Yanukovych out of office, off-the-rack Zara dresses have price-tags that make them seem more like luxury items.
That makes it almost impossible for people with hryvnia in their wallets. Its decline making it the world's worst performer came as investors fled the war-torn country and households and businesses rushed to buy foreign currency to protect their savings. The hryvnia traded 2.2 percent stronger at 23.42 against the dollar on April 2, paring its loss this year to 33 percent.
Government Challenges
The administration of President Petro Poroshenko is scrambling to change investment sentiment, with a priority on securing a deal with international bond holders as part of a $40 billion program led by the International Monetary Fund. The government and the IMF forecast the economy to shrink 5.5 percent this year, the second year of contracting output.
For Ukraine to survive, the authorities need to resume economic growth "and get rid of the emotional perception that we are at war and the war is totally consuming us," Alexander Valchyshen, the head of research at Kiev-based Investment Capital Ukraine, said in an interview. "The focus is totally on the war. It shouldn't be like this."
As the government struggles to gain an upper hand over rebels it says are funded and armed by Russia -- accusations leaders in Moscow deny -- the flagging economy is becoming even more of a concern to consumers, Valchyshen said.
Retail sales fell 21.2 percent in the first two months of the year, while inflation accelerated to 34.5 percent in February, from 6.9 percent in April 2014 when the insurgency began in the east.
Consumption Shift
"There is a shift in consumption and we are targeting a range of products for consumers who need to save," said Dmytro Levytskyi, Kontynent's marketing manager. "We try to sell some goods in smaller quantities, and try to replace expensive imports as much as possible with products from Ukraine."
Food retailers are not the only ones facing falling sales because of higher prices. At Kiev's Inter Build Expo, a four-day exhibition for builders and building material distributors from across Europe, the hall appeared to be filled with more browsers than buyers.
At the stand for Kiev-based Orbital, which sells British-made Hunter and German-made Marley rain gutters, six company representatives outnumbered potential customers.
Sales director Mykola Lynnyk said Orbital has already slashed prices for imported gutters by as much as 15 percent since November to drum up business.
"Sales have declined, of course," he said, adding he is waiting for the building and real-estate market to improve after two years of recession. "Otherwise we wouldn't be standing here. We have hopes."
Cabinet Focus
Though the government can't actively change the hryvnia's exchange rate or other monetary policy tools, it's working to slash red tape, overhaul the tax code and fight corruption, cronyism and monopolism in an economy dominated by a handful of billionaire oligarchs, said Deputy Economy Minister Ruslan Korzh in a March 26 interview at Kiev School of Economics event.
"We don't have miracles, promises, but what we do and what we can promise at the end of the year is to create a landscape for growth," Korzh said.
Seventy-five kilometers (46 miles) outside of Kiev, the fight to survive can be even meaner. Lyudmyla Plashkevych, a 62-year-old pensioner living in the village of Dorohynka, about 80 kilometers west of the capital city, relies on her vegetable garden, three goats and a dozen chickens to get by.
While living is cheaper in the countryside, income is lower and growing your own food has its own costs. Plashkevych pays more than 400 hryvnia a month for wheat, corn and other grains from her pension of slightly more than 1,000 hryvnia. On top of that, she needs to save to pay about 900 hryvnia, twice as much as a year ago, to have her plot plowed before spring planting begins.
Shifting Blame
"Everything has become so expensive," she said. "With these prices, plus electricity and gas, I hardly have anything left."
A growing number of Ukrainians, who are blaming Russia for their economic woes since the March 2014 annexation of the Crimean peninsula and a subsequent separatist war that has killed more than 6,000 people, are now turning on their own.
Valchyshen, the Investment Capital researcher, recently picked up a bottle of Head & Shoulders, his long-time shampoo brand by Procter & Gamble Co., just to see that the price more than doubled to over 50 hryvnia compared with his last purchase.
He put it down in favor of a 19 hryvnia domestic brand. "And it was fine," he said.
More expensive imported goods may help spur domestic industry, though the weak currency is boosting shipping costs across Ukraine and limiting the benefits of locally-made products for consumers. Transport prices soared 62.9 percent from a year earlier in February as the hryvnia's plunge outweighed the global decline in oil costs. Fuel costs jumped 83.8 percent in February.
For music teacher Ilchuk, real change won't happen until the war ends, the country becomes more self-reliant in production and the oligarchs are reined in. At the Kontynent food store in a Kiev suburb, Ilchuk's broad smile turned to a frown as he thought about the prospects for this year.
"Almost the entire economy has been destroyed," he said. "At the moment, almost nothing works, we produce almost nothing. It's simply terrible."
Before it's here, it's on the Bloomberg Terminal.
LEARN MORE