TPG Sued by Spokesman Who Says Whistle-Blowing Got Him Fired
Andrew Harris and Devin Banerjee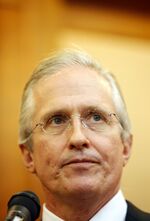 The fight between TPG Global LLC and Adam Levine just got hotter, as the former aide to President George W. Bush sued the firm for allegedly firing him in retaliation for blowing the whistle on misconduct.
The lawsuit escalates a legal battle in which the private-equity firm sued Levine, who worked as a spokesman, for an alleged threat to "take down" TPG.
The Fort Worth, Texas-based firm, whose parent is TPG Capital Management LP, defrauded its investors of millions of dollars in fees and expenses, violating securities laws, according to Levine's complaint filed Thursday in federal court in Oakland, California.
Executives of TPG threatened to ruin his reputation and career when he raised the issue with them and ultimately fired him, after which he notified the U.S. Securities and Exchange Commission, his attorneys said in the complaint.
"TPG has since waged a relentless and unlawful campaign to smear Mr. Levine's reputation with the filing of a baseless and retaliatory lawsuit," the attorneys allege.
TPG denied Levine's allegations in a statement issued Thursday by the firm's publicists.
"The assertions in Mr. Levine's lawsuit are patently false," said Marc Kasowitz, a lawyer for TPG. "Levine's lawsuit today is nothing more than a meritless pleading."
Buyout Fund
The court fight comes as TPG tries to finish gathering money from clients for its latest buyout fund, its first in seven years. The new vehicle, which started fundraising in July and is targeting $10 billion, had raised $6.5 billion as of about a month ago, said a person with knowledge of the process who requested anonymity because the details are private.
Struggling deals from the firm's two previous funds led to the longer-than-average gap between collecting money. Investments in Texas utility Energy Future Holdings Corp. and the savings bank Washington Mutual were effectively wiped out. TPG's stake in casino operator Caesars Entertainment Corp. is on the line after the company put its biggest unit into bankruptcy.
To help woo investors, TPG offered clients who participated in the first round of fundraising a discount on their management fee, according to a marketing document obtained by Bloomberg. The firm has also offered fee breaks to investors making large commitments.
TPG's performance, helped by a surge in asset values, has improved since Washington Mutual collapsed in 2008. The firm's $19.8 billion fund, raised in 2008, was producing an annualized gain after fees of 11 percent as of Sept. 30, according to data compiled by Bloomberg. TPG's $15.4 billion fund from 2006 was returning 4.4 percent.
'Mass Destruction'
TPG sued Levine in January claiming he called himself a "weapon of mass destruction" who could inflict harm by disclosing sensitive information and planting damaging stories about TPG. It said in its complaint that he stole confidential documents, and then altered and shared them with the New York Times.
A spokeswoman for Levine has called the firm's January lawsuit against him "a shameful attempt to discredit a whistle-blower."
"Mr. Levine was dismissed because he had alerted TPG senior management to serious issues of non-compliance and defrauding its investors of millions of dollars in fees and expenses," Barbara Rohn, a spokeswoman for Levine, said when the case was filed.
Bush Aide
Levine served as deputy press secretary to Bush, a Republican, before joining TPG in 2008.
By mid 2014, Levine was seeking to expand the public affairs department, as TPG Capital was preparing to sell shares in itself in an initial public offering by 2015, according to his complaint.
Levine said he asked his employers to invest more resources to his department, provide dedicated internal staff and make him a partner.
On Oct. 27, TPG's executive committee authorized Levine to expand the department, while later asking him to hire only outside consultants and contractors, so the expenses could be billed to portfolio companies or TPG's clients, the fund investors, according to the complaint.
When Levine said that practice might violate SEC guidelines, Jim Coulter, a founding partner of TPG with David Bonderman in 1992, brushed off the concerns, according to the complaint. Levine said Coulter told him he would become a partner after the IPO, if he successfully built out the public affairs department in the way the firm had requested.
Track Records
TPG also made misleading representations about the track records of its investment team leaders, Levine alleged, and sought to shift other overhead expenses to its investors.
That type of industry practice was criticized in a speech last year by Drew Bowden, a U.S. Securities and Exchange Commission director.
Alleging violations of California and federal whistle-blower protection laws as well as defamation, Levine is seeking unspecified money damages for lost retroactive and prospective pay and emotional distress as well as a punitive award.
The retaliation case is Levine v. TPG Capital LP, U.S. District Court, Northern District of California (Oakland). The firm's case is TPG Global LLC v. Levine, 15-cv-00059, U.S. District Court, Northern District of Texas (Fort Worth).
Before it's here, it's on the Bloomberg Terminal.
LEARN MORE