I Want My Snapchat TV
Snapchat's Discover feature is giving advertisers millions of video views and a familiar model
By and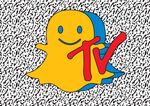 Five days before the March 25 broadcast premiere of Big Time in Hollywood, FL, a new Comedy Central show produced by actor Ben Stiller, the network released its first episode on Snapchat. In January the messaging app, known mostly for letting its young users share annotated photos that vanish shortly afterward, added a "Discover" feature, a menu of free channels from 11 media companies that publish video clips and news stories directly to Snapchat. Two people who work for Snapchat's channel partners say their daily video clips and written stories average more than 1 million viewers; they declined to discuss specific viewership numbers or revenue. Big Time won't be Comedy Central's last Snapchat premiere, says Senior Vice President Steve Grimes.
In November 2013, Snapchat Chief Executive Officer Evan Spiegel was widely mocked for rejecting a $3 billion buyout offer from Facebook. Snapchat had just completed a round of funding that valued it at half that, and it had no revenue. Although it has an obsessive young audience coveted by advertisers that now totals more than 100 million, the app's main content is uniquely ephemeral, and the company says it doesn't track user behavior in the ways most social networks do to sell ads. So even as Snapchat's valuation rose to $10 billion in August 2014, the company remained largely quiet about how it planned to make money.
The Discover feature's 11 channels, including those from CNN, ESPN, the Food Network, National Geographic, People, and Vice, alongside Comedy Central, produce their own videos and their own print stories. They also sell their own ads, giving Snapchat an undisclosed cut of the revenue. The collection of companies looks a lot like a basic cable package, except that it carries mostly short video clips. (Viewers can opt to watch full segments or shows.) Snapchat's youthful audience helps the companies running Discover channels charge advertisers about $100 per 1,000 views, about twice the ad rates of YouTube and Hulu, say three people familiar with the app's viewer data, who weren't authorized to discuss the issue.

According to Cowen, an investment research firm, 71 percent of Americans aged 18 to 29 use Snapchat, which has a modest audience outside the U.S. The app "got inserted into the conversation faster than anyone expected," says Comedy Central's Grimes, ranking its importance on the same level as Facebook, Twitter, and Instagram. "You have to have offerings for each of those platforms for the shows you do now." In March, Alibaba invested in Snapchat at a valuation of $15 billion.
When you log in to Snapchat, two swipes to the right will bring up the main Discover screen, populated with media logos. Tap the one for Comedy Central, and you'll get a 10-second clip from an episode of South Park or Key & Peele, played on a loop. Swipe right for another clip from the same channel, then another, then sit through an ad to get to the next, or swipe down for a longer related segment or episode. Channels for People or Cosmopolitan include animated story packages but are designed more to encourage a swipe down into a print story. "It's a really great opportunity for us to tap into a millennial audience," says Joe LaFalce, head of digital business development at People, adding that he's recently assigned four staffers to tailor stories for Snapchat, in part by putting a greater emphasis on younger stars. Producers for Comedy Central's popular late-night shows now stick around on nights after their shows wrap to select and format clips for the app.
Snapchat is also selling ads against feeds of short, nondisappearing videos from users, a feature called "Live" unveiled last summer. Some Live feeds have drawn more than 30 million viewers, say the three people familiar with Snapchat's viewership—about the same number of viewers that tuned in to the opening ceremony of last year's Winter Olympics. Even so, the clips from cable networks have proven more popular with major advertisers, from Samsung to General Electric. McDonald's bought out Comedy Central's Snapchat ad inventory when the channel launched in January; BMW did the same for CNN's.
The issue for advertisers is that they, too, have to tailor ads specifically for Snapchat and make sure the ads and affiliated channels hold viewers' attention, says Craig Atkinson, chief digital officer at PHD, an ad agency owned by marketing giant Omnicom Group. Because Snapchat users have to actively choose to watch a channel, "the burden is even greater on us to make sure that what we're doing is interesting," says Atkinson, who tells advertisers to regard Snapchat spending as research and development.

Only so many advertisers are eager to experiment. Viewers can go days without seeing ads on the channels for the Daily Mail and Warner Music. CEO Spiegel is hunting for a head of sales but has lost several key executives in the last few months, including the head of ad partnerships and Chief Operating Officer Emily White, who helped pilot the ad model. Spiegel considered operations part of his daily purview and limited White's authority, says a person familiar with the matter who wasn't authorized to discuss it. Snapchat declined to comment. White didn't respond.
The company's biggest challenge may be to keep its fickle young users from migrating to the next hot messaging app, says Rebecca Lieb, an analyst at Altimeter Group. "Snapchat is a darling this year, but how about next year, when the novelty wears off?" she says. "It's not sustainable." Still, the six-year-old company's audience grew 62 percent in 2014, according to researcher ComScore. Grace Lee, a freshman at the University of North Carolina, says that if anything, the app is too ubiquitous in her circles. "I feel like I have to use it just to be in contact with people," she says. "You'll see people at a concert or with their friends at a party, and they're taking video for Snapchat the whole night."
Lee uses the app to communicate, not to watch TV clips. "People my age like it because it's so simple. Take picture, send it," she says. "The more complicated, the more stuff they add on, the less popular it will be."
The bottom line: Snapchat has created a video ad model that resembles TV and costs advertisers twice as much as Hulu or YouTube.
Before it's here, it's on the Bloomberg Terminal.
LEARN MORE