Robert Schuller, John Makin, Hot Rod Hundley: Obits This Week
Steven Gittelson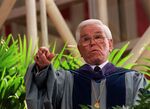 This week's notable deaths included one of America's most-watched televangelists, who preached from a Southern California megachurch; a U.S. economist who was a resident scholar at the American Enterprise Institute and a principal of hedge fund Caxton Associates; and a hall of fame broadcaster for the National Basketball Association's Utah Jazz. Below are summaries of these and other obituaries.
Robert H. Schuller, 88. A bespectacled white-haired televangelist who delivered uplifting Christian messages in the "Hour of Power" broadcasts from the Philip Johnson-designed Crystal Cathedral. At its height, the weekly program was watched by 20 million people in 50 countries. The church struggled after he retired and filed for bankruptcy protection in 2010. Died April 2 at a health-care facility in Artesia, California. He was diagnosed with esophageal cancer.
John H. Makin, 71. Economist affiliated with Washington-based AEI since 1984, writing the research organization's monthly Economic Outlook. He spent two decades at the New York-based hedge fund Caxton Associates, as chief economist and a principal. His career also included stints at the Congressional Budget Office and the Treasury Department's office of tax analysis as well as the International Monetary Fund, where he was a consultant. Died March 30 in New York. The cause was cancer.
Hot Rod Hundley, 80. Broadcaster on television and radio for the Utah Jazz for more than three decades. A first-round NBA draft pick in 1957, he played six seasons with the Lakers, first in Minneapolis, then in Los Angeles. He made the All-Star team twice, before bad knees ended his career. Died March 27 at his home near Phoenix.
Klaus Tschira, 74. Co-founded Walldorf, Germany-based SAP SE, which is the No. 1 maker of software that manages companies' finances and production operations. Tschira and four colleagues left jobs at International Business Machines Corp. in 1972 to start Walldorf, Germany-based SAP. He helped plan its initial public offering in 1988 and amassed a net worth of $7 billion. Died March 31.
Paul Reynolds, 52. Chief executive officer of Canaccord Genuity Group Inc., a Toronto-based investment bank. He joined the company in 1985 and became CEO in 2007. During his tenure, he doubled the bank's assets to C$3.9 billion ($3.1 billion) as of Dec. 31. Died April 1 in Kona, Hawaii, after participating in the swim portion of the Lavaman Waikoloa Triathlon.
Paul Lenkeit, 55. Managing director in charge of derivatives and insurance investments at Babson Capital Management in Springfield, Massachusetts. The firm, with more than $212 billion in assets, is a unit of Massachusetts Mutual Life Insurance Co. Lenkeit began his more than two-decade career in markets by teaching himself how to day trade and speculate on options. Died March 25 in West Palm Beach, Florida, while on vacation.
Tomas Transtroemer, 83. Swedish poet and translator who won the Nobel Prize in Literature in 2011 for giving readers "fresh access to reality," according to the Swedish academy. He wrote his first volume of poetry in 1954 and by the mid-1960s was viewed as a leading voice of his generation. Died March 26.
James Wood, 85. Became CEO of the Great Atlantic & Pacific Tea Co., better known as A&P, in 1980 when it was faltering. He restructured the oldest supermarket chain in the U.S., returning it to profitability within a few years. Its growth stalled in the 1990s and Wood retired in 1998. A&P filed for Chapter 11 bankruptcy protection in 2010, emerging in 2012 as a closely held company. Died March 26 in New York. The cause was congestive heart failure.
Before it's here, it's on the Bloomberg Terminal.
LEARN MORE