Obama Touts Job Program in Kentucky and Hits Republicans on Budget
Toluse Olorunnipa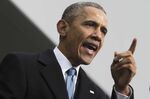 President Barack Obama, after hailing a nuclear accord with Iran, turned back to domestic issues by taking aim at Republican tax and budget priorities as he makes the case for investing more money in worker training.
After delivering remarks Thursday at the White House on a framework understanding with Iran, Obama flew to Louisville, Kentucky, one of about 20 cities that signed on to his TechHire initiative.
The program, announced last month, is designed to connect workers with higher-paying positions in the technology field. Obama is seeking to emphasize that technology skills provide jobs across the U.S., not just in big cities.
"This doesn't cost huge amounts of money but it does cost some money, to do it right and to do it well," Obama said in remarks at Indatus, a downtown Louisville software firm. He said with the right training there are multiple paths for workers to find good paying jobs.
Obama highlighted his budget proposal -- which increases funding for job training -- and drew a contrast with the Republican plan, which cuts spending. It's a theme Obama has pressed in recent weeks in visits to mostly Republican states, including Alabama, Georgia, and South Carolina. He will give a speech in Utah on Friday.
Budget Debate
"There's going to be a big debate" about government spending priorities in the coming months, Obama said. Republicans, he said, are proposing tax cuts for the very wealthiest Americans and program cuts for the middle- and lower-income citizens.
"That's not the way we're going to build an economy that strengthens the middle class," he said.
A city of Louisville program that became a model for TechHire, called Code Louisville, uses tax dollars to fund technology training and job placement services. Participants in the program receive free course in computer coding. The 12-week courses help residents build a portfolio they can use to show their skills to potential employers. Indatus is one of the companies that participated in Code Louisville.
The administration's push for more technology hiring has highlighted the higher wages in the field and the availability of jobs for skilled workers who don't have four-year degrees.
Multiple Regions
Adam Enbar, co-founder of the Flatiron School, which provides free computer training in New York, worked with the White House to create the TechHire Initiative. He said Obama's trip to Kentucky shows how technology jobs have grown across regions and sectors.
"It could be any city in between San Francisco and New York," he said. "There's a realization that what we used to call the tech industry is now every industry."
Government employment data released this year showed that while the U.S. is adding positions at the fastest pace since the 1990s, wages have failed to match that growth, falling short of analysts' expectations.
The White House said it has secured commitments from more than 300 companies and local governments in more than 20 regions to participate in TechHire. Companies including Microsoft Corp., Cisco Systems Inc. and LinkedIn Corp. have agreed to provide free technology training to low-income residents. Cities including St. Louis, New York, Philadelphia and Salt Lake City have agreed to participate in the initiative.
Republican Budget
The Republican budget plan, unveiled last month, would cut more than $5 trillion in government spending. It repeals Obama's signature health-care law and includes cuts to entitlement programs such as Medicaid. Republicans have said it would result in a balanced budget within the next decade without raising taxes.
Senate Majority Leader Mitch McConnell, a Kentucky Republican, is traveling during Congress's two-week recess and will not be in Louisville for the president's visit.
Don Stewart, a spokesman for McConnell, said Thursday the Republican budget plans don't include cutting job training programs and he blamed budget limits signed into law by Obama for shorting those initiatives.
"The president signed the budget caps into law, and rather than finding smart ways to trim the fat in Washington to meet that pledge, he has apparently decided he would cut jobs-training programs to maintain the caps," Stewart said.