Mike Huckabee Says Gay Rights Activists 'Won't Stop Until There Are No Churches'
The former Arkansas governor says the controversy over Indiana's Religious Freedom Restoration Act has been "manufactured" by the left.
By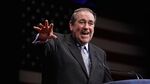 If responding to Indiana's Religious Freedom Restoration Act were a game of poker,  you could say Mike Huckabee has just upped the ante. 
In an Wednesday night interview with the Family Research Council's radio program "Washington Watch with Tony Perkins," Huckabee asserted that gay rights activists protesting the Indiana law they consider discriminatory have a larger objective, and won't curtail their efforts anytime soon. 
"It won't stop until there are no more churches, until there are no more people who are spreading the Gospel," the former Arkansas governor and potential 2016 presidential candidate said. "And I'm talking now about the unabridged, unapologetic gospel that is really God's truth." 
Like Carly Fiorina, Huckabee, who called the controversy over RFRA laws "manufactured," took aim at businesses who have signed on to a boycott of Indiana over the legislation. 
"The sad thing is a lot of these major companies and CEO's are just capitulating," Huckabee said. "And here's what's even sadder to me, a lot of the people in the political realm are just deciding that it's easier to fold and quit than it is to fight, and the result of that is that we invite more of this."
Indiana Governor Mike Pence urged the state's legislators to re-write the law to include specific protections for gays and lesbians, and former Florida Governor Jeb Bush, after initially signaling his support for Pence's signing of the law, said that Indiana should have tried for a "consensus-oriented approach" by including gay rights groups when crafting the act's wording. Pence, Bush, Fiorina, and Huckabee are all considered likely presidential candidates.