Japan's Small Companies Are Borrowing From JBIC to Expand Abroad
Masaaki Iwamoto and Kyoko Shimodoi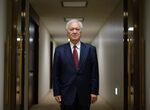 Japanese small and medium-sized companies are boosting borrowing to expand abroad as opportunities at home dry up, according to the Japan Bank for International Cooperation.
"They're not just following their large partners in developing business overseas," Hiroshi Watanabe, 65, governor of the state-run lender, said in an interview in Tokyo on Wednesday. "They're also seeking to diversify their business locations because the domestic market is shrinking."
The number of loans and investments by JBIC for small and medium-sized companies for operations abroad jumped to 82 in the 9 months through December, with a total value of 105 billion yen ($880 million), according to the Tokyo-based institution. That compares with 54 worth 18 billion yen in the fiscal year through March 2014. Data for the last three months isn't available yet.
With Japan's population in decline, inflation stalling and growth uncertain, smaller firms are treading a path set by the nation's largest corporations, with a focus on Asian countries including Vietnam, Thailand, Indonesia and China, according to JBIC. Components makers in the auto industry are among the most active smaller companies seeking funds to build facilities outside Japan, along with firms in the food industry, JBIC said.
The yen, which has weakened 22 percent against the dollar in the past two years, hasn't been a driver of the trend, according to Watanabe.
He expects the yen to remain near its current level for the rest of the year. It traded at 119.53 per dollar at 3:31 p.m. on Thursday in Tokyo.
Watanabe said he welcomed the establishment of the China-led Asian Infrastructure Investment Bank because it would add more funds to finance infrastructure projects in the region.
Cooperation between JBIC and the AIIB on loans and investment was unlikely unless the new lender adopted strict criteria for governance, he added.
Japan and the U.S. have held out from joining the AIIB, even as nations from the U.K and Germany to South Korea and Australia plan to become founding members.
Before it's here, it's on the Bloomberg Terminal.
LEARN MORE