Iron Ore Seen Extending Slump Below $50 as BHP, Rio Decline
Jasmine Ng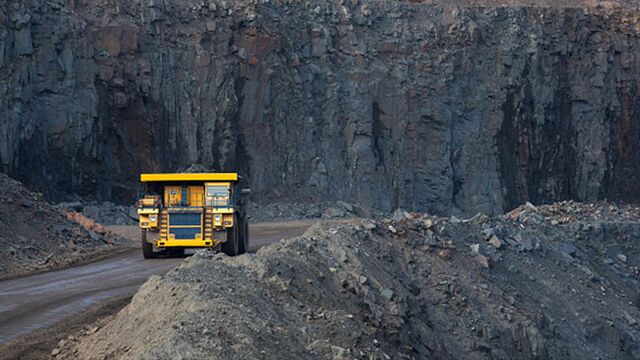 Iron ore, which fell below $50 a metric ton on Wednesday, may extend losses as weakening producer currencies cut mining costs, reducing incentives for the supply cuts needed to balance the market, according to Societe Generale SA.
Lower energy prices have lessened freight expenses and the inability of many high-cost Chinese miners to cut output means that iron ore will stay weak, Mark Keenan, Singapore-based head of commodities research for Asia, said on Thursday. The steel-making raw material will probably drop into the low $40s a ton in the coming weeks, IG Markets Ltd. said in an e-mailed note.
Prices plummeted last year and extended losses in 2015 as Rio Tinto Group and BHP Billiton Ltd. expanded low-cost supply as demand from China, the biggest user, weakened. Global consumption will shrink this year for the first time since 2009, Deutsche Bank AG said in a report on Tuesday, forecasting prices may drop below $40 as producers' costs ease. Miners' shares declined on Thursday, with Australia's Fortescue Metals Group Ltd. tumbling at the lowest level in more than six years.
The weaker currencies "provide a degree of insulation at the producer level from falling dollar prices" of iron ore, Keenan said by e-mail in response to questions. "Declines in bunker fuel, driven by the fall in oil prices, have also reduced shipping costs of ore significantly."
Lower Price
Ore with 62 percent content at Qingdao lost 3.5 percent to $49.53 a dry ton on Wednesday, according to Metal Bulletin Ltd. That's the lowest level since 2005, based on daily and weekly data from Metal Bulletin and annual benchmarks compiled by Clarkson Plc, the world's largest shipbroker, for ore delivered to China. Prices declined 30.5 percent this year.
The Australian dollar and the Brazilian real dropped 18 percent and 28 percent against the U.S. currency in the past 12 months as commodity prices fell, data compiled by Bloomberg show. The Australian dollar is trading near its lowest level since 2009 and the real is near its weakest since 2003.
China's economy, which consumes about two-thirds of iron ore transported by sea, expanded last year at the weakest pace since 1990 and will probably slow further in 2015. Efforts by policy makers to stimulate growth have had only limited impact on the iron ore market so far this year, Morgan Stanley said.
On Monday, the People's Bank of China lowered a down-payment requirement for second homes and the finance ministry exempted some homeowners from a sales tax. Construction accounts for about 56 percent of China's steel demand, according to estimates from Standard Chartered Plc.
'Pessimistic' Market
"The market remains pessimistic amid the supply glut and weak domestic demand for steel in China," Australia & New Zealand Banking Group Ltd. wrote in a note on Thursday. The recently announced mortgage-policy measures have done little to support the iron ore price, the bank said.
Iron ore for September delivery fell 2.8 percent to close at 380 yuan ($61.32) a ton on the Dalian Commodity Exchange, the lowest for a most-active contract since trading began in October 2013. Steel reinforcement-bar for October delivery sank 2 percent to 2,342 yuan a ton on the Shanghai Futures Exchange, the lowest since trading started in March 2009.
Seaborne supply will exceed demand by 55 million tons this year, rising to 184 million tons in 2018, Morgan Stanley estimates. The world's biggest mining companies will add 310 million tons of output through 2017, Deutsche Bank said on Tuesday, forecasting that iron ore will average $51 this year.
BHP decreased 2.1 percent to 1,438.5 pence at 10:23 a.m. in London, declining for a third day, as Rio lost 0.6 percent to 2,745 pence. In Sydney, Fortescue, Australia's third-largest shipper, which last month urged major miners to adopt an output cap, sank 4 percent, while BC Iron Ltd. weakened 4.2 percent and Atlas Iron Ltd. tumbled 7.7 percent.
Before it's here, it's on the Bloomberg Terminal.
LEARN MORE