Iran Moves Closer to Restoring Oil Exports on Nuclear Accord
Grant Smith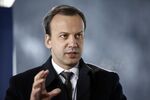 Iran's accord with world powers brings the OPEC member a step closer to restoring oil production that was cut by sanctions while leaving unresolved when it will happen.
The preliminary agreement outlined Thursday signals the Persian Gulf nation may be able to resume exports within months of a final deal, which negotiators aim to conclude by June 30, UBS Group AG and Commerzbank AG said. Iran's shipments abroad have been curbed 50 percent by measures imposed in mid-2012.
The return of Iran's oil to a global market oversupplied by surging U.S. shale output threatens the price recovery fellow producers are expecting later this year. Minutes after the deal was announced, Brent crude, the global benchmark, fell as much as 5.4 percent. Under the accord, the U.S. and European Union would lift the economic sanctions if inspectors from the International Atomic Energy Agency verify Iran's compliance with curbs on its nuclear program.
"In essence, there will be more Iranian oil soon," Giovanni Staunovo, an analyst at UBS, said by e-mail from Zurich. "For the time being, the announcement is bearish. Sanctions will be lifted following the OK from the IAEA. For me, that's likely to come in the second half of the year."
Brent has fallen by more than half from a 12-month high in June because of the global supply glut. Futures for May settlement extended losses Thursday after the agreement was announced in Lausanne, Switzerland, and finished down $2.15 to $54.95 a barrel on the London-based ICE Futures Europe exchange. West Texas Intermediate for May delivery declined 1.9 percent to $49.14 a barrel on the New York Mercantile Exchange Thursday.
Oil's Decline
Further price losses may be limited as there's no guarantee a full deal will be reached by the June deadline, BNP Paribas SA said.
Russia doesn't see any risks to prices from Iranian oil exports and is keeping a 2015 estimate for oil at $50 a barrel, Deputy Prime Minister Arkady Dvorkovich told reporters near Moscow on Friday. The lifting of curbs opens new opportunities and Russian companies may propose projects with Iran, he said.
"It's widely considered Iran's crude production will not increase in the short run," said Takayuki Nogami, a senior economist at Japan Oil, Gas and Metals National Corp. in Tokyo. "The agreement has been already factored into oil prices."
The framework accord reached by Iran and six world powers - - the U.S., U.K., France, Germany, Russia and China -- sets a schedule for Iran's enrichment of uranium, limits it to a single site and allows international monitoring over the next quarter-century.
Nuclear Weapons
It will extend the "break-out" period that Iran would need to obtain nuclear weapons to more than a year. The sanctions that have crippled the Islamic Republic's economy would be removed in phases as inspectors verify its compliance.
While OPEC Secretary-General Abdalla El-Badri predicted on March 8 that global oil markets will rebalance in the second half, Commerzbank expects Iranian output could almost double the current surplus and push Brent oil back toward a 5 1/2-year low.
"If Iran does come back, we may not get any price uplift at all in the second half," Mike Wittner, head of oil market research at Societe Generale SA in New York, said by e-mail. "It could be a very gradual process to lift or suspend the sanctions. Obviously, it's bearish as and when they start producing again."
Iran Output
Iran could increase output by 800,000 barrels a day to its full capacity of 3.6 million within three months of sanctions ending, the International Energy Agency, a Paris-based adviser to 29 nations, said on Feb. 10. It holds the world's fourth-largest crude reserves, according to BP Plc. Sanctions cut Iran's oil exports by about 50 percent to 1 million barrels a day in 2013, according to the IEA and U.S. Congressional Research Service.
Oil prices may have fallen excessively as the path to a comprehensive resolution is "still perilous," Helima Croft, chief commodities strategist at RBC Capital in New York, said by e-mail.
Even if a full agreement is reached, Iran's potential for restoring capacity may have been eroded after shutting in production for years at oil fields that were already declining and suffering from inadequate investment, according to Harry Tchilinguirian, head of commodity markets strategy at BNP Paribas SA in London.
"In the end, the uncertainty around a resolution is simply prolonged to June," Tchilinguirian said. "The reality of Iran's battered oil sector due to several years of sanctions restricts the country's ability to sustainably raise its production."
Iranian Shipments
Shipments of Iranian crude rose to about 1.2 million barrels a day last year, buoyed by an earlier interim agreement in November 2013 with the six powers that gave the Persian Gulf state limited relief, according to the IEA. Sales were at that level in February, the agency estimates. The country was OPEC's third-biggest member in March, sharing that position with Kuwait, according to data compiled by Bloomberg.
If a final deal is reached, Iran also could tap crude stockpiled on tankers in the Persian Gulf while it sets about reviving shuttered wells, according to Barclays Plc. The country, which is storing about 30 million barrels in this fashion, will probably "release aggressively priced extra oil onto the market" to lure customers back, the IEA predicts.
"It gives us tangible evidence we will see more Iranian barrels," said Miswin Mahesh, an analyst at Barclays in London. "It just makes the recovery of price a bit more U-shaped than before."
Before it's here, it's on the Bloomberg Terminal.
LEARN MORE