Here Are the 11 Best Airbnb Listings in Havana
by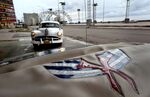 Now you can book an Airbnb in Cuba.
The online marketplace said today that it was adding about 1,000 listing across the country, mostly in Havana, following President Obama's decision to relax travel restrictions in January. Prices on the website range from $30 for a bedroom in a modest apartment to $13,000 a month for an upscale villa, meaning there's something for business travelers accustomed to luxury digs and backpackers willing to do without familiar amenities like hot water or Internet access.  
Here are our favorite listings:
The Colonial House

This two-bedroom house belonged to senior generals of "previous governmens," according to the listing. It has high ceilings, a swimming pool, and large gardens. It accommodates five guests comfortable, and lists for $222 a night.
 The Luxury Villa
Book this four-story, six-bedroom villa for $700 a night, or $13,000 a month, and get a gym, jacuzzi, and other luxury amenities in a central location.
On the Plaza Vieja
This bright, airy one-bedroom in Old Havana is listed by a 74-year-old English speaker.

Casa Miramar
A four bedroom, top-floor apartment with a large terrace and room for eight guests. It lets for $320 a night.

City Views
For $115 a night, let this three-bedroom apartment in El Vedado; the balconies offer panoramic views.

A Colorful Room
Rent this comfortable room—it has two beds and air-conditioning—for $33 a night.

Paseo del Prado
A two-bedroom apartment overlooking the Bay of Havana and the Paseo del Prado in all its faded beauty; $65 a night.

Casa Vitrales
This traditional bed-and-breakfast in Old Havana has nine bedrooms; they can all be yours for $500 a night.

Three Rooms, $33
A charming apartment with high ceilings, air-conditioning, and a nearby park.

The 18th Century House
Rent a bed and bath in the Conde De Lombillo House, built in 1730, for $130 a night.

Car Sold Separately
A villa in the "most prestigious" part of Havana lets for $160.

Before it's here, it's on the Bloomberg Terminal.
LEARN MORE