Hayman's Bass Targets Shire in New Drug Patent Challenges
Kelly Bit, Susan Decker and Cynthia Koons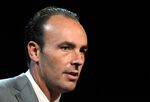 Kyle Bass is expanding his campaign against pharmaceutical companies.
Shire Plc is the newest target of the hedge fund manager's strategy to challenge drug patents, according to filings Wednesday with the U.S. Patent and Trademark Office. Bass is challenging patents on Lialda and Gattex, according to the filings, which together would have made up 12 percent of Shire's revenue in 2014.
"A small minority of drug companies are abusing the patent system to sustain invalid patents that contain no meaningful innovations but serve to maintain their anti-competitive high-price monopoly," Bass wrote in an e-mail.
Cosmo Pharmaceuticals SA owns the Lialda patent and licenses it to Shire. Cosmo isn't listed as a party but is cited as having been served with the petition.
Shire's American depositary receipts fell 1.4 percent to $229.49 at 11:32 a.m. in New York.
"We are aware of the two petitions that were filed, and will vigorously defend any proceedings that may be instituted at the U.S. Patent and Trademark Office," Stephanie Fagan, a spokeswoman for Shire, said in an e-mailed statement. "Shire is confident that the validity of our patents will be upheld."
'Real Problem'
Bass, founder of Dallas-based Hayman Capital Management, in February challenged two of the five patents covering multiple sclerosis drug Ampyra, which accounts for 91 percent of the revenue of Acorda Therapeutics Inc. Acorda's stock dropped after each of the filings: by 9.7 percent on Feb. 10 and 4.8 percent on Feb. 27.
Bass had pledged to challenge patents on numerous medications, accusing drugmakers of misusing the patent system to keep drug prices high and low-cost copies away from customers. He previously declined to comment on whether he was shorting shares of Acorda.
"Congress, in a sincere effort to address a real problem of patent trolls, has inadvertently created an analogous problem of reverse patent trolls," Acorda Chief Executive Officer Ron Cohen said in a telephone interview. "Their solution is damaging to any industry that relies on intellectual property. They need to do something to fix that."
Outside Groups
The Inter Partes Review procedure was created as a quick and relatively inexpensive way for technology companies and retailers to deal with so-called patent trolls -- a pejorative for certain patent-licensing firms that file a large number of suits over things like the use of Wi-Fi or common software functions in hopes of an easy payout.
Drugmakers and biotechnology companies said the procedure has instead opened the door to outside groups that are using it to profit by demanding cash to drop challenges or betting that the petitions would cause stocks to move.
The drugmakers have asked Congress to alter the law and limit third-party filings, a proposal that technology companies oppose.
Bass is now challenging Shire's Gattex, a treatment for short bowel syndrome that the company got through its $5.2 billion purchase of NPS Pharmaceuticals Inc., which closed in February. Lialda, a colitis medicine, generated $633.8 million in sales last year for the Dublin-based drugmaker.
The 45-year-old manager rose to fame after making $500 million in 2007 betting against U.S. subprime-mortgage securities before that market collapsed. More recently, he bet on a fiscal collapse in Japan and on gold as a hedge against inflation spurred by central banks printing money.
Hayman Capital managed $2.1 billion as of December 2013, according to its latest filing with the U.S. Securities and Exchange Commission.
Before it's here, it's on the Bloomberg Terminal.
LEARN MORE