Five Things We Learned From the Veterans of Drexel Burnham
They're everywhere. They made a market that now tops $1.2 trillion. And that's just two.
by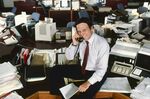 If you haven't read this week's excellent oral history of Drexel Burnham Lambert—the firm that essentially created the junk bond market before going bankrupt 25 years ago—you should. It's a first-hand account of the rise and fall of the firm and its star, Michael Milken, whose name became synonymous with the very concept of junk bonds. His indictment helped bring Drexel down and led to his 22 months in prison.
Milken didn't participate in the interviews, but his former colleagues and adversaries provided a trove of memories, jokes, indignation, and information, including these facts you may not be aware of:
1. Drexel alums are everywhere. Although Milken and Ivan Boesky, a Drexel client, went to jail and the firm went bankrupt, many of Drexel's former employees went on to outstanding careers on Wall Street and elsewhere. One of them now owns the Milwaukee Brewers.
2. They made big characters bigger. Ted Turner, T. Boone Pickens, Ron Perelman, and Steve Wynn all pulled off some of their most important deals with the help of Drexel financing.
3. Rudy Giuliani helped take them down. Before becoming mayor of New York City in 1994, Giuliani was U.S. Attorney for the Southern District of New York, and he ran the prosecutions of Milken and Boesky. 
4. U.S. junk bonds are valued at more than $1.2 trillion today. Milken's criminal charges, and the word "junk," continue to cast a shadow over the high-yield bond market, yet its total value has increased more than fivefold since Drexel's bankruptcy in 1990.

5. Milken was "better" than Mother Teresa. While there may not have been an actual vote on the matter, as one of the interviewees said, it's a long-running meme in some circles that Milken did more good for more people than Mother Teresa. It was an idea first put forward by David Kelley of the Institute for Objectivist Studies, and pushed along with the help of reporter John Stossel.
Before it's here, it's on the Bloomberg Terminal.
LEARN MORE