Dark Detox: Activated Charcoal's Cleansing Benefits
Looking to detox? Forget fasting—try some activated charcoal
By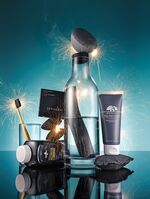 What is activated charcoal?
Once used by poison control centers, it's made by treating the regular stuff—made from wood, coconut shell, or other organic materials—with a gas that renders the charcoal highly porous. It then absorbs compounds and chemicals that come in contact with it.
---
Schoolhouse Electric & Supply charcoal toothbrush
$8; schoolhouseelectric.com
The Japanese brush's bristles help fight bad breath and plaque and prevent bacteria growth.
Sephora Collection bamboo charcoal blotting papers
$8; sephora.com
These thin, double-sided gray sheets eliminate shine without messing up makeup. In addition to absorbing oil, charcoal is antibacterial and antifungal.
Boscia konjac cleansing sponge
$15; boscia.com
This pillowy sponge, made from the root of the konjac plant, is infused with bamboo charcoal to clean your face without soap. Makers claim it draws out impurities and banishes acne.
Origins active charcoal body wash
$23; origins.com
Scented with spearmint to invigorate your morning shower, it supposedly unclogs pores, leaving behind smooth, blemish-free skin.
Juice Generation activated juice
$9.99; juicegeneration.com
After tracking beauty trends last fall, the company released three cold-pressed juices, each containing 2 teaspoons of tasteless charcoal made from coconut shells. The bottles are flying off shelves among those who believe the drink detoxifies organs.
Sort of Coal bincho glass water bottle
$95; sortofcoal.com
Like a Brita pitcher, only chic: The 1-liter glass carafe comes with a stick inside that naturally filters tap water. It removes 75 percent of chlorine and adds healthful minerals such as potassium and magnesium.
Ever Bamboo shoe deodorizer
$9.99; everbamboo.com
Place inside your shoes to deodorize and remove moisture. The pads will get clogged in a month or so—place them under direct sunlight outside for three hours to re-up their power.
Before it's here, it's on the Bloomberg Terminal.
LEARN MORE