Bush Hedges on Indiana RFRA, Argues There Was a Better Way
In remarks at a closed-door fundraiser, former governor expounds on his earlier support for the bill.
By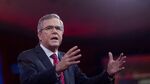 Jeb Bush still supports Indiana Governor Mike Pence's decision to sign the state's religious liberty bill, but thinks he could have gone about it a different way.
During a closed-door fundraiser on Wednesday in Silicon Valley, the former Florida governor argued that a better way to pass a law that protected religious rights and prevented LGBT discrimination would have been a "consensus-oriented approach" similar to the way Utah passed a law. Bush also said that Indiana "will be in the right place" soon, in terms of having a religious liberty bill that doesn't allow discrimination. 
"Utah went about this, but what they did is they brought all the constituencies together and this included the leadership of the (Mormon) Church and LGBT community," Bush said, according to a transcript of his remarks provided by his aides. Bush said that he wasn't being critical of Pence, and mentioned his support for him earlier this week, but argued that bringing together various constituencies to discuss the bill "seems like a better approach to dealing with this." 
This is a shift from his firm support of the bill on Monday, when Bush said in a radio interview that Pence had "done the right thing" by signing the religious liberty bill and that, once the facts were established, people would see the bill wasn't discriminatory.
But on Tuesday morning Pence said that "after much reflection" it would be best to clarify that the bill does not legalize discrimination, and encouraged the Indiana legislature to send him a fix by the end of the week. 
In reference to that fix, Bush said Wednesday that he believed "the state of Indiana is going to end up doing is probably get to that place."