Buhari Pursues Cabinet to Boost Economy, Battle Boko Haram
Daniel Magnowski and Elisha Bala-Gbogbo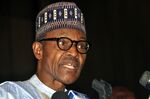 Muhammadu Buhari's election victory over an incumbent president was unprecedented in Nigerian history. Now for the difficult part: tackling an economy reeling from a plunge in oil prices and Islamist militant attacks in the north.
Buhari, 72, will probably tap some of the key strategists of his election victory, such as the outgoing governor of Lagos state, Babatunde Fashola, and Rivers state Governor Rotimi Amaechi, as well as senior officials in his All Progressives Congress party such as Bola Tinubu and Atiku Abubakar, said Laura Barber, intelligence analyst at AKE Group in London.
"Appointments at the oil and finance ministries in particular will be looked to for a sign of confidence in the new government," Razia Khan, head of Africa macroeconomic research at Standard Chartered Plc in London, said in an e-mailed response to questions. "The appointment of any technocrats, with a proven track-record of delivery, will be especially welcomed by investors."
The challenges Buhari will inherit when he's inaugurated on May 29 are immense. The price of oil, the nation's main export, has fallen 50 percent since June, the naira is down 17 percent against the dollar in the past six months, and the International Monetary Fund estimates economic growth will slow this year to 4.8 percent this year from 6.1 percent in 2014. In the north, the Islamist militant group Boko Haram has waged a six-year insurgency that the government says has killed more than 13,000 people.
Honeymoon Ends
"Key challenges, including security issues in the north and the broader economic crisis triggered by lower oil prices will limit and possibly eradicate any post-election honeymoon period," Manji Cheto, vice-president at Teneo Intelligence in London, said in e-mailed comments.
Wole Soyinka, Nigeria's only Nobel laureate, said Buhari will choose cabinet members dealing with the economy with wide experience.
"I believe that Buhari is going to choose a very strong, good team in various departments, but most especially in economy," Soyinka said Wednesday in an interview with Bloomberg TV Africa at his home in Abeokuta. "I think, like me, he's an economic illiterate."
A former military ruler, Buhari will also probably shake up officials in the security forces to deal with Boko Haram, Barber said in an e-mailed response to questions.
"I assure you that Boko Haram will soon know the strength of our collective will and commitment to rid this nation of terror, and bring back peace and normalcy to all the affected areas," Buhari said Wednesday in a speech in Abuja, the capital. "We shall spare no effort until we defeat terrorism."
Petroleum Ministry
One of his key picks will be the minister responsible for oil, which accounts for more than two-thirds of government revenue and more than 90 percent of foreign-exchange income.
Amaechi is a possible candidate to become petroleum minister because he's the current governor of oil-rich Rivers state in the Niger River delta and defected from President Goodluck Jonathan's People's Democratic Party, according to analysts including Phil Chladek of Bloomberg Intelligence.
"Given his loyalty to the APC and his important contribution to their campaign," Amaechi may get the position, said Alan Cameron, an economist at Exotix Partners LLP in London.
Having someone from the region as the petroleum minister may help to maintain the relative calm in the delta since 2009 when militants behind attacks on the oil industry cut output by 28 percent accepted an amnesty offered by Jonathan's predecessor Umaru Yar'Adua. Piracy and theft of crude from pipelines remain rife in Africa's biggest oil producer.
'Magic Wand'
Jonathan was born in Bayelsa state in the Niger delta, and oil minister, Diezani Alison-Madueke, is from Port Harcourt, the Rivers state capital that's the hub of the petroleum industry.
One of the new minister's tasks will be to oversee the passage of a set of proposed laws to reshape Nigeria's oil industry, the Petroleum Industry Bill, which has been stuck in parliament for more than years.
"We should not expect a magic wand," said Rolake Akinkugbe, vice president and head of energy at Lagos-based FBN Capital Ltd. "I don't necessarily think there will be a rush to pass the PIB."
The current agriculture minister, Akinwunmi Adesina, and Trade Minister Olusegun Aganga, are among the likeliest to keep their jobs, Cameron at Exotix said.
"It remains to be seen whether there will be any changes at the Ministry of Finance or the Central Bank of Nigeria, though the APC's manifesto explicitly mentions central bank independence as a top priority," he said.
Godwin Emefiele, the current governor of the Abuja-based regulator, took over in June 2014 after Jonathan suspended the previous governor, Lamido Sanusi.
Before it's here, it's on the Bloomberg Terminal.
LEARN MORE