politics
Bob Menendez's Donor Problem: Did Citizen's United Cause It?
Whatever the outcome, there's plenty of blame to go around.
By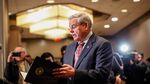 In a message to supporters, uploaded by the brand new "Stand With Bob" YouTube account, indicted New Jersey Senator Bob Menendez apologizes for nothing.
"It saddens me that our system of justice has already failed at its most basic level," says Menendez. "That failure affords me the opportunity to finally show, beyond a doubt, that the charges leveled today and through a three year campaign of innuendos and smears is completely false." 
In other words he was filing a plea of not guilty. That, we knew—he had said as much, while condemning the prosecutors who were "tricked into starting this investigation with false allegations by people who have a political motive to silence me."
It had actually been just two and a half years since mysterious operatives tried to get several news outlets to interview women who, they claimed, were underage prostitutes forced to service Menendez on a trip to the Dominican Republic. That salacious story fell apart, but in Menendez's telling, the tipsters successfully forced federal scrutiny on behavior that was actually completely normal. He took campaign donations from Florida eye doctor Salomon Melgen. He took some fancy hotel rooms and plane rides from Melgen. He advocated on Melgen's behalf in a $8.9 million dispute over Medicaid billing.
If the story of a member of Congress living large and giving favors to donors sounds familiar, that's probably because former Illinois Rep. Aaron Schock just went through this. The Menendez indictment actually came down one after Schock officially resigned his seat, after reporter Ben Terris wrote an innocuous-seeming story about Schock's expensive office redesign. Like Schock, Menendez fell short on the ethics of taking gifts, and personally benefited from the generosity of people who were also funding his campaigns. Unlike Schock, he paid back his gifts, and enjoyed support from his party.  1
And unlike Schock, Menendez got other Democrats dirty. The case against Menendez ties his behavior and coddling of Melgen to a $600,000 donation the eye doctor gave to the Senate Majority PAC, a Super PAC created to protect Democrats in 2012 and 2014. To campaign finance reformers, the Menendez case is just more proof that the Super PAC era has opened up new paths to corruption.
"The Menendez indictment shows that by opening the door for Super PACs, the Roberts Court destroyed candidate contribution limits as a practical matter and has left us with the inherently corrupt system an earlier and far wiser Supreme Court warned the nation about," said Fred Wertheimer, president of the watchdog group Democracy21, earlier today. "Senator Menendez and his favor-seeking benefactor were caught, but less blatant and equally corrupting exchanges of government benefits for huge Super PAC contributions will undoubtedly continue to take place and never be caught."
In an interview with the Washington Post, Common Cause president Miles Rapoport echoed that concern. At all times, reformers point back to the argument that Supreme Court Justice Anthony Kennedy made in Citizens United, that independent expenditures did not increase corruption.
"We now conclude that independent expenditures, including those made by corporations, do not give rise to corruption or the appearance of corruption," Kennedy wrote in the majority decision. "There is only scant evidence that independent expenditures even ingratiate. Ingratiation and access, in any event, are not corruption."
David Bossie, the president of Citizens United, found the linkage downright offensive. "Anybody who says Citizens United in the same breath as Menendez is ridiculous," he told Bloomberg. "It's easy to say Menendez is a bad guy and took gifts from a donor who wanted more, but that doesn't mean the rules are wrong, It means that the people are wrong. There are bad guys in everything. Honestly, when an eye doctor tells you has a private plane and you can ride with him, some warning flags should go up for you."
Bossie's logic is undeniable. There's always been a way for a chummy donor to throw money at a senator, then expect him to be a friend when the feds knock on his door or a project needs to be funded by the appropriations bill. Indeed, the assumption that donors are expecting special treatment was a theme in ads run by the Senate Majority PAC—ads indirectly paid for by Salomon Melgen. One SMP ad for then-Louisiana Senator Mary Landrieu accused then-Congressman Bill Cassidy of doing the Koch brothers' bidding in opposing flood relief.
In another ad, now-Arkansas Senator Tom Cotton saw his vote on the farm bill tied to "a secret meeting between billionaires" at a Koch retreat.
The assumption that members of Congress are acting the way donors told them to—and that Citizens United made this worse—undergirds plenty of current Democratic campaigns. Voters didn't really care about this in 2014. The reality that campaign bundlers and mega-donors get preferential treatment for cushy appointments, like ambassadorships, is not a scandal until one of the bundlers botches a congressional hearing.
Menendez's favors from Melgen were not scandalous, until there was a salacious story that got the FBI and media interested. That's no reason to take pity on him. Coming just a day after Schock's resignation, it's a reason to ask if the scandal is what's illegal, or what's perfectly within the law. 
One obvious reason for this is the political regime in Schock's and Menendez's respective states. Shock's resignation kicked off a special election for which the GOP already had a favored candidate—political dynast Darin LaHood. Were Menendez to resign, Republican Governor Chris Christie would pick his temporary replacement and schedule an election that Democrats would be favored to win, but at considerable cost.
Before it's here, it's on the Bloomberg Terminal.
LEARN MORE